The 'Windows 10' Archives
Posted February 6, 2016 by Ashley Blood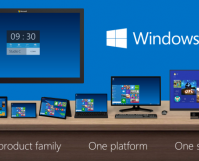 One way to personalize your computer is to create a desktop slideshow on Windows 10 that is full of meaningful images. These can be pictures of loved ones, favorite vacations or events, images from a favorite TV show, or just high-quality nature pictures. You can use photos you took yourself or download them from the internet. […]
Posted January 25, 2016 by Ashley Blood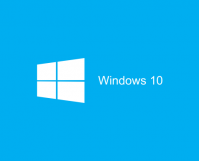 Have you ever gotten frustrated while using your mouse wheel to scroll through long documents or gotten a sore pointer finger from scrolling through an endless Facebook or Tumblr feed? I cannot help with your social media addiction, but I can help you change your mouse settings on your Windows 10 computer to increase your […]
Posted January 9, 2016 by Ashley Blood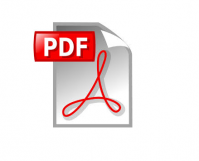 We have always had workarounds to convert documents and web pages to PDFs, but Windows 10 has simplified the process and eliminated the need for third-party applications by building in Microsoft Print to PDF. Essentially, this new feature comes pre-installed as a virtual printer on your computer. Instead of printing on paper, the output of […]
Posted November 21, 2015 by Ashley Blood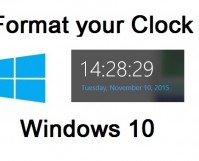 Windows gives you several options to customize the format of the clock in the bottom corner of your screen. You can choose from a 24 or 12-hour clock, and you can include a leading "0" so that the time always has the same number of digits. You can also tweak the order of the day, […]
Posted November 17, 2015 by Ashley Blood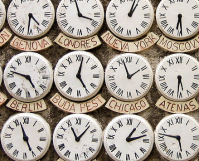 Keeping track of time zones can be tricky. At 9 am, it is still normal working hours for you in the US, but has your client in Asia gone home for the day? You are traveling but still need to call into a 10:00 am meeting. What time is that for you in your current […]
Posted November 11, 2015 by Ashley Blood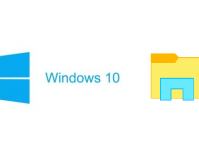 Windows 7 introduced the ability to filter files by size, date modified, tags, type, and more in Windows Explorer. This is a powerful feature that helps users more easily find and manage the ever-growing mass of files that accumulates so quickly. Windows Explorer was renamed File Explorer in Windows 8, and it was given a […]
Posted September 18, 2015 by Ashley Blood
Enhancing the colors captured in digital photography is easy with the Windows 10 built-in Photos app. Photos has four color editing tools which give you a considerable amount of control over the coloring of your photos. Continue reading to learn more about how to use them.
Posted September 18, 2015 by Ashley Blood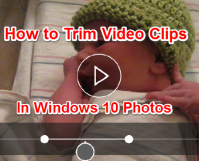 Do you want to trim your awkward laugh out of the beginning or end of an otherwise great video or pull out short highlights from a filmed sporting event? The Windows 10 built-in Photos app has a video clip trimming tool that is easy to use and is perfect for this basic editing.
Posted September 16, 2015 by Ashley Blood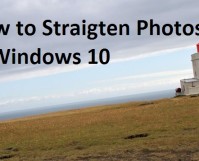 Do you have pictures of neat, straight buildings that look like the Leaning Tower of Pisa? How about a group picture where the ground and people look like they are tilted 10° to the right? Holding your camera perfectly level can be difficult if you do not have a tripod. Fortunately, the Windows 10 Photos app comes […]
Posted September 15, 2015 by Ashley Blood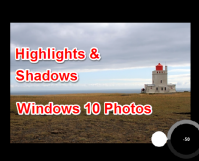 Most lighting edits in digital photography are done by adjusting the brightness (overall light/dark across all pixels in the image) and the contrast (simultaneously making the whites whiter and blacks blacker). Read my article on using the Brightness and Contrast tools in Windows 10 here. If you want finer control over your images lighting, read on. Highlights and Shadows allow […]
Posted September 13, 2015 by Ashley Blood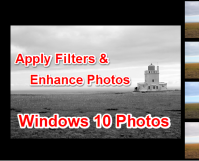 You can spend hours fiddling with color and lighting settings, or you can use the built-in Enhance and Filter tools in Windows 10 to tweak your photos with a few mouse clicks. You have less control over the final image when you let Photos do the fine-tuning for you, but it sure is a quick and […]
Posted September 12, 2015 by Ashley Blood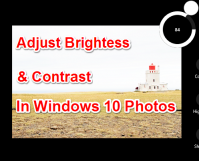 Sometimes photos turn out either too bright or too dark due to the camera's exposure settings. With digital photography, these photo errors can be corrected after the fact using editing software like the Windows 10 built-in Photos app. There are two main settings to tweak when dealing with overexposed and underexposed pictures: brightness and contrast. […]