Posted September 28, 2020 by Vishwanath Dalvi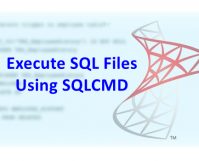 SQLCMD is a command-line utility to connect and execute SQL queries from the command prompt. Using SQLCMD we can only connect to SQL Server instances. Importantly we can run ad-hoc as well as interactive script plus automating SQL scripts execution. This utility is pre-installed with SQL Server installation. Instead of relying on SSMS for quick […]
Posted September 20, 2020 by Vishwanath Dalvi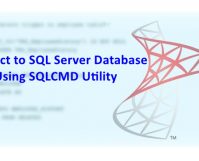 SQLCMD is a command-line utility to connect and execute SQL queries from the command prompt. Using SQLCMD we can only connect to SQL Server instances. Importantly we can run ad-hoc as well as interactive script plus automating SQL scripts execution. This utility is pre-installed with SQL Server installation. Instead of relying on SSMS for quick […]
Posted August 31, 2020 by Vishwanath Dalvi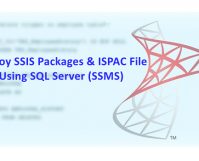 SQL Server supports the legacy package deployment model as well as the new project deployment model. We can deploy single/ multiple SSIS packages and ISPAC file from SQL Server (SSMS). Most importantly, the legacy package deployment model lacked many features like deploying multiple SSIS packages together. SQL Server 2016 onwards, we can deploy multiple SSIS […]
Posted August 29, 2020 by Vishwanath Dalvi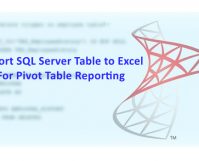 An essential skill to know, how to Import SQL Server table to Excel. Using it for pivot table analysis and reporting within Excel. Every developer must be acquainted with this. Importantly, most customers and business users are comfortable using Microsoft Excel for data analysis. Without any doubt, Excel provides an array of rich features with […]
Posted August 23, 2020 by Vishwanath Dalvi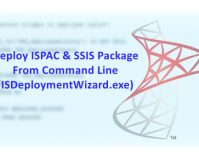 ISPAC file & SSIS packages can be deployed from the command line. This can speed up the deployment and help in automating the deployments. ISPAC file referred to as deployable output file generated from SQL server integration projects. When we build SSIS project it creates an ISPAC file under the bin folder. Besides, deploying SSIS […]
Posted August 22, 2020 by Vishwanath Dalvi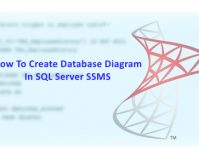 Database diagrams are visual representations of underlying table structure and their relationships. Generally referred to as ER (Entity-Relationship) diagram. With database diagrams, we can easily identify the list of tables in a database and their association through the type of relationships. Moreover, it also provides the overall structure with listed tables, their keys and relationships.
Posted June 22, 2020 by Vishwanath Dalvi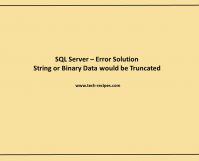 The most popular and annoying error message every SQL Server developer runs into during development. String or Binary data would be truncated. For instance, annoying when an Insert statement with 100 columns starts raising truncation error. However, we do not have an easy way out to find the string value and column name generating truncation […]
Posted June 20, 2020 by Vishwanath Dalvi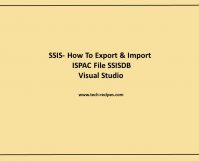 A walkthrough and learning how to export & import ISPAC files from SSISDB and Visual Studio. ISPAC file referred to as a deployable output file generated from SQL server integration projects. When we build SSIS project it creates an ISPAC file under the bin folder. Besides, while deploying SSIS projects from Visual studio is equivalent […]
Posted October 27, 2019 by Vishwanath Dalvi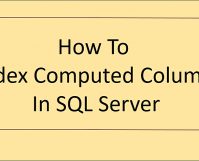 The computed column also referred to as calculated or generated column. Derived from other column value or an expression. This tech-recipe post inlined with published post How To Use Computed Column In SQL Server. Refer the earlier post as a beginners' guide to a computed column in SQL Server.
Posted October 19, 2019 by Vishwanath Dalvi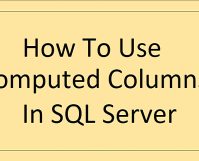 Computed columns or Calculated columns in SQL Server as the name suggest, computed based on other column values instead of manual user input. Regular columns are populated by user or external inputs. However, computed columns are derived using existing columns which receive input from a user.
Posted October 16, 2019 by Vishwanath Dalvi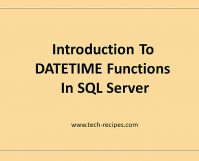 Need for DateTime functions in SQL Server to keep track of date and time has always been a vital part of database design. Most database designs need to track date and time by storing and retrieving it for reporting purposes. Be it an e-commerce website where transaction, sales and purchases need a DateTime. Insurance companies, […]
Posted September 21, 2019 by Vishwanath Dalvi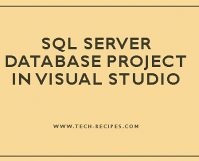 SQL Server database project imports multiple database objects from a single/ multiple databases under one visual studio solution. Generally, converting all database objects into .sql files and bringing them under a solution & version control. Database objects include tables, schemas, stored procedures, views, etc.