Nowadays, you barely see a PHP driven website that doesn't store its data with a MySQL database. Released in 1995 (first version), this open-source database management system has turned into a crucial part of a website. Perhaps, this is the one major reason, many webmasters look for free MySQL hosting.
If you're one of them, you have landed to the right place as I am going to disclose the list of hosting providers that offer MySQL hosting for absolutely free. But before we jump into the list, I would like you to know a brief introduction to MySQL and how it works. <!–more–>
What is MySQL?
While looking for a web hosting, probably you might have noticed that every provider comes with a database type in their specification. And among the most common is MySQL. This database management is structured on SQL (structured query language) and can be used for a variety of purposes. However, the common purpose is creating a web database. MySQL lets you store anything from a small piece of information to a huge inventory of products.
The website owners can connect to their MySQL database using a PHP script. And to access your database you need a reliable MySQL hosting.
In case you are a beginner who doesn't want to invest a huge amount in PHP hosting or learner on a tight budget, you may go with the following free MySQL database hosting providers.
All of the following hosting providers are MySQL enabled.
#1 000webhost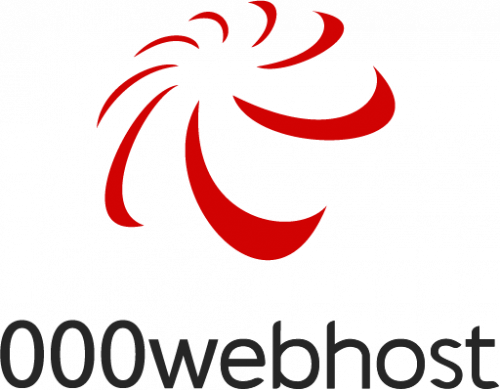 000webhost is one of the leading free web companies supported by Hostinger. The provider gives you many reasons to choose their free MySQL web hosting.
The very first reason is that they not only just offer you free hosting but the limitless hosting. Moreover, they do not ask you to run any annoying ad on your website to compensate for their free services. Isn't it a great thing?
Unlike many hosting providers, they don't have any limits for MySQL. Anytime, you can get access to phpMyAdmin straight from your Cpanel. And if you want to edit, add, modify your MySQL privileges, you can do so quite easily.
#2 Heliohost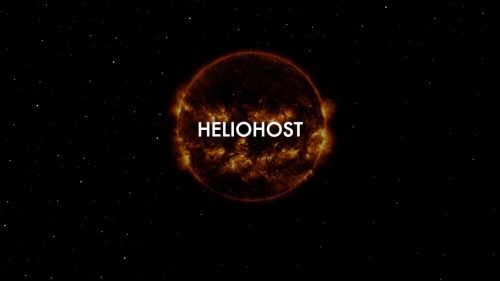 Are you interested in a remote MySQL connection? Why won't you be? It's a great advantage that you can access your database remotely. Well, Heliohost is one of the few hosting providers that give you this opportunity.
Supported by an active community of volunteers, this free hosting provider offers all the features of a regularly paid hosting. Its free plan includes 1 GB of disk space along with unlimited bandwidth and access to cPanel. In addition to this, you always have the option to choose between PostgreSQL and SQLite.
#3 FreeHosting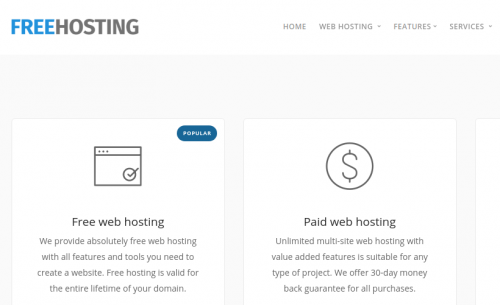 FreeHosting is counted among the top free hosting providers available in the market right now. They have been in the industry for more than two decades. It comes as no doubt that it is a good company. After all, no company can survive so long if they are not up to the standard.
The company has mentioned on their website that free MySQL hosting is their major expertise. They further say that they offer MariaBD on their web hosting servers.
Their free hosting plan includes 5 databases. Therefore, you do not need to look for any 3rd party database management program for your website. Moreover, FreeHosting also takes the security of their users' database earnestly. In order to keep their users' details safe and sound, they take regular backups.
#4 Awardspace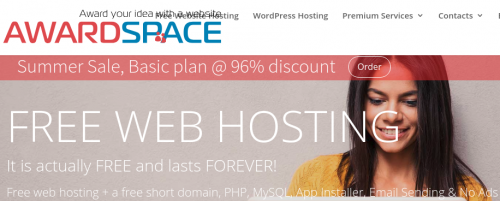 Awardspace is a well-known web hosting company offering hosting solutions all across the globe. This German-based company came out of its mother companies i.e. AttractSoft Gmbh and Zetta Hosting Solutions.
Their free web hosting package includes free PHP & MySQL support, a domain name, and an application installer. Speaking of server configuration, you get 1GB of disk space and bandwidth limit up to 5 GB monthly traffic. One free MySQL database is also allowed with 30 MB disk allocation for each free user. In addition to this, the company also claims to offer 24/7 customer support and uptime of 99.9%
#5 FreeSQLDatabase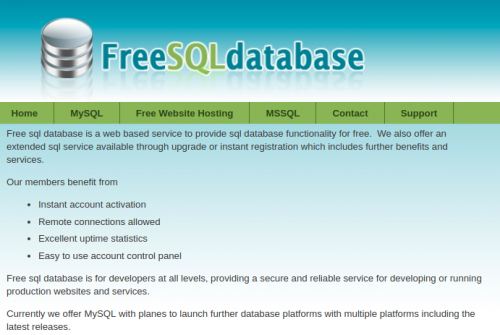 As the name suggests, it is another free MySQL database hosting company in the list offering a web-based database functionality. The provider offers 1 MySQL database of 5 MB per user. Moreover, users have a liberty to choose from multiple locations to host their database. It means you have remote access to your MySQL database.
Signing up for their free account is exceptionally easy, it takes a minute. You just have to fill up your details and you will be provided the details of your database along with the option to change them. Here is what included in their every MySQL account.
-Instant account activation.
-5 free MySQL databases.
-Secure access to Username and Password.
-No access restriction.
For extended functionalities, they always give you an option to upgrade their free version to paid one for $21.15 annually.
#6 InfinityFree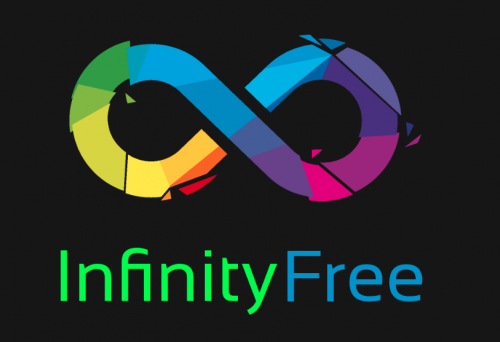 Want to get unlimited MySQL database? Go for InfinityFree. It is a well-known free web hosting provider gives unlimited bandwidth, unlimited disk space and unlimited MySQL database for absolutely free.
The good thing is that they offer these features without enforcing you to run any irritating ads on your website. Their signing up procedure is exceptionally easy. Any newbie can set up an account with InfinityFree single-handedly.
Moreover, the provider gives you an option to upgrade your plan if you feel your website needs a powerful environment and advanced features. Their paid plan starts at $2.99 per month that comes with 100 Email accounts, 100 FTP Accounts, Unlimited daily hits along with all the features of their free plan.
Conclusion
MySQL database helps you add, manage and access content in a database very easily. In this post, we have put together a few popular free web hosting providers with MySQL enabled, if you know more such providers, let us know in the following comment section.