LinkedIn offers many lucrative features and settings to help you apply to jobs in a short time. One of those features is the 'open to work' feature, which, when turned on, lets recruiters know you're looking for work. LinkedIn then leads them to your profile. This feature can be modified and even turned off completely. By turning it off, you can casually browse for work while letting recruiters know that you're casually browsing, and therefore not looking for work. Below are simple steps on how to turn off open to work feature on LinkedIn via Android app.
Turning Off Open to Work Feature on LinkedIn in Less than 10 Steps:
1. Launch the LinkedIn app.
2. Tap on your profile from top-left corner.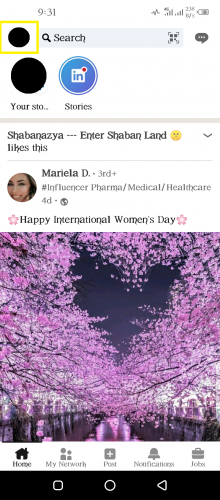 3. And tap on View Profile.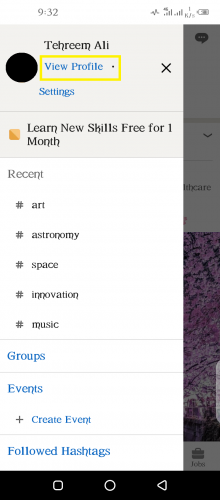 4. From your profile, tap on Edit before Open to Work.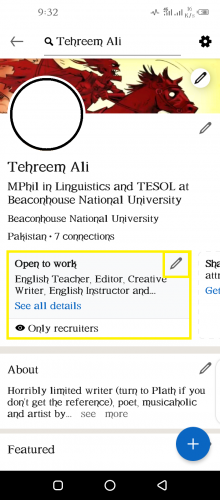 Since this feature would be turned on, it will show up right on top of your profile when you open it.
5. From editing job preferences section, select the third option.
6. Tap SAVE.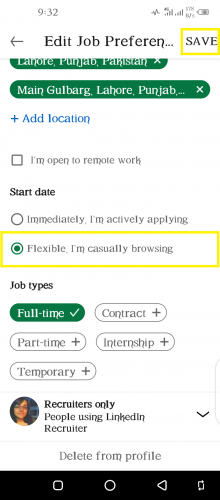 You have now turned the open to work feature off. You can keep browsing through as many jobs and companies as you like, without having recruiters contact you for hiring.
Alternatively, you can also remove the open to work feature from your profile altogether. To do so:
7. Tap on Delete from profile at the bottom of the Edit page.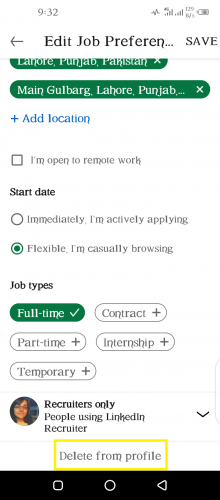 8. Hit DELETE from the next pop-up.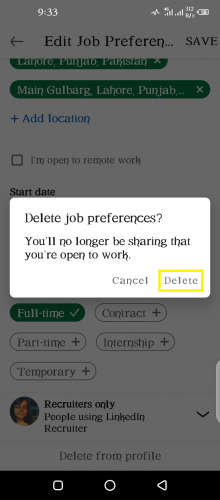 The feature has now been completely removed from your profile. That means whether you're casually browsing for jobs or open to work, other LinkedIn users—recruiters and friends alike—will not be shown this status. There will be no green open to work banner on your profile, nor the one that says casually browsing through jobs.
The feature is turned off more or less the same way in LinkedIn's browser version.
Should You Even Turn the Feature Off?
Even though this decision is totally under your control, it's still recommended to keep the feature on, albeit switching it to something else, like the 'I'm open to remote work' option or, if you're not, simply keeping the 'Flexible, I'm casually browsing' feature on.
That way, when you do need work and start looking for some, recruiters will take into account the fact that your LinkedIn account has been active; that you've been up and about, hunting jobs. It leaves a good impression from your side.
Furthermore, if you delete feature altogether…well, there's nothing wrong with that per say, although it would seem strange to some recruiters, given LinkedIn is mainly about jobs after all.
So, whichever job preference you end up setting for your profile (or don't), make sure it reflects positively on your profile overall as far as job hunts are concerned.
More on LinkedIn
Manage Connection Invites in LinkedIn
How to Deactivate and Reactivate LinkedIn Account
Manage Notifications in LinkedIn
Keep Your Surname and Email Private in LinkedIn