Mozilla Firefox: Disable Add-On Delay
Mozilla's Firefox browser has tremendous flexibility to customize internal settings to make it faster, better, and more productive. However, the plaque of malware has forced Mozilla to add a delay when attempting to install new extensions. Power-users frequently will want to disable this delay.
While installing any new add-on in Mozilla Firefox, it stops every installation with an annoying pop-up dialog box. It takes 5 seconds before the Install button appears.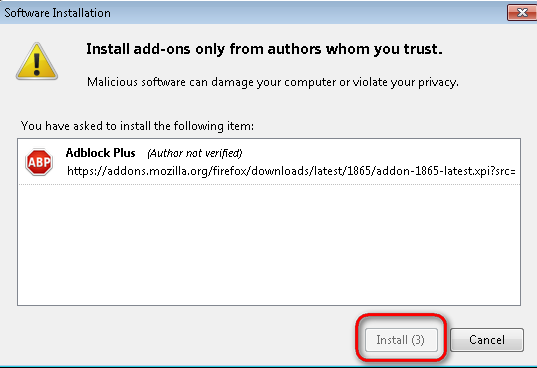 Mozilla has added this delay to stop users from accidentally installing malware that is masquerading as a browser extension. However, most skilled users are already incredibly cautious about this process. These mandatory pauses can be disabled.
[+] about:config
      [-] security.dialog_enable_delay
           [-] Value = 0

1.First, navigate to address bar and type about:config and go.
2.Click on 'I'll be careful, I promise', if warning window appears.
3.Search for security.dialog_enable_delay in search box.
4.Then right click on preference name 'security.dialog_enable_delay' then Modify and set value to 0.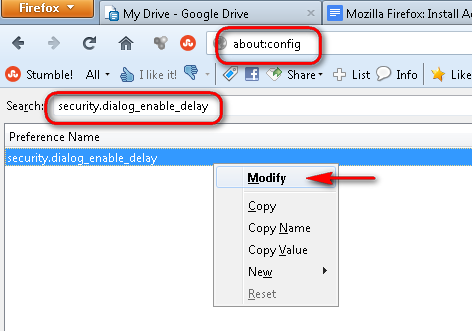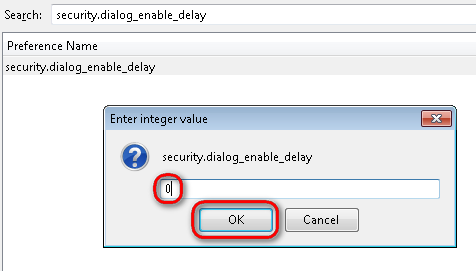 After making these changes you will notice there will be no delay while installing the add-ons. The install button appears instantly.
If you decide you would rather reverse the process to be more cautious, you can change the value back to 2000 to enable mandatory pauses.
Vishwanath Dalvi is a gifted engineer and tech enthusiast. He enjoys music, magic, movies, and gaming. When not hacking around or supporting the open source community, he is trying to overcome his phobia of dogs.
View more articles by Vishwanath Dalvi
The Conversation
Follow the reactions below and share your own thoughts.