Finally, Facebook! Instagram had a dark mode. Soundcloud had a dark mode. Heck, you could even enable dark mode in Google Chrome. But, Facebook took its time. After taking over Whatsapp for a staggering 19 billion dollars, Facebook finally realized the importance of the dark and elegant Whatsapp for some people. The new update is currently available on Android 9 and 10, and on iOS13. So, make sure you have your devices updated. You can also enable automatic app updates on your iPhone or Android to make sure that the updates take place on their own, and you don't have to undertake any manual measures.
Enabling Dark Mode in Whatsapp
To enable dark mode on WhatsApp, all you need to do is make your device has the latest version of the app, and Android 9 or 10, as mentioned above. Then, you need to follow these steps to the last detail.
1. Open Whatsapp.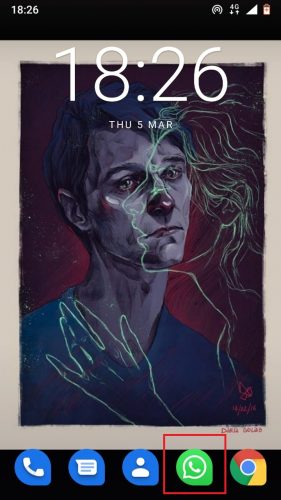 2. Click the Three Vertical Dots at the top that open the Menu.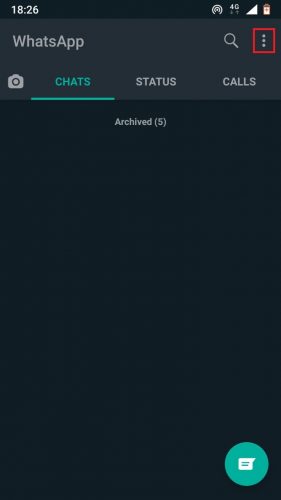 3. Go to Settings.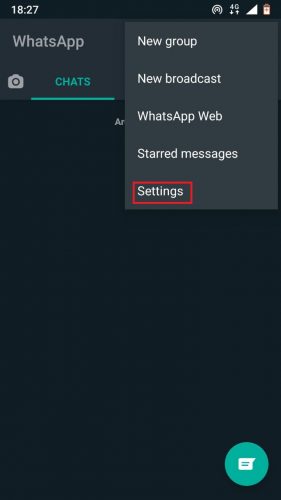 4. Tap Chats.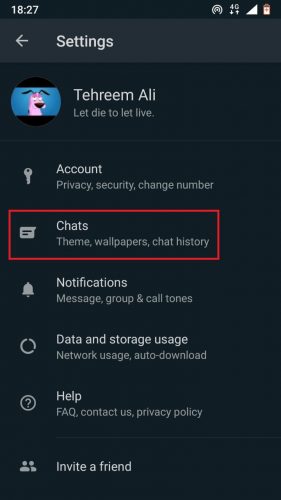 5. Tap Themes.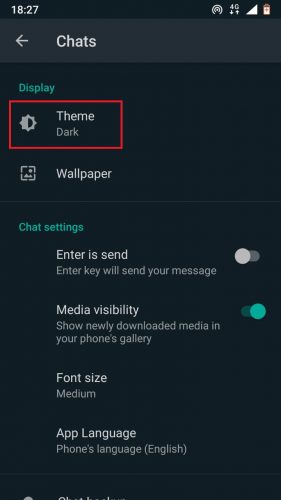 6. Select Dark and Press OK.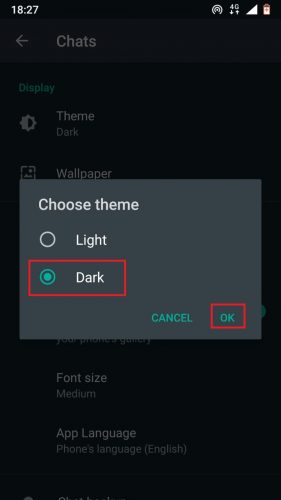 And that's how simple it is to activate this new feature on your Whatsapp!
Important Think to Know ABout Whatsapp's Dark Mode
According to the announcement by the official Whatsapp Blog, some of the things you need to know about the feature a summarised below.
As many users know Whatsapp's dark mode was a highly sought feature, and due to its coveted nature, it was integrated into the app.

This mode, aside from its elegant appearance, has a host of health benefits, including alleviating eye strain.

Aside from its obvious health benefits, it also helps you evade those awkward moments where you're sneaking in a room, and everyone's fast asleep, and your phone lights up like a lamp.

The feature is designed to improve readability. This has been done by using colors and designs that make this possible.

The mode also ensures that the most important information is given the spotlight so the user can skim past unneeded stuff. The blog has termed this as Information Hierarchy.
Why should you use the Dark Mode on Whatsapp?
Well, personally speaking, I have the dark mode activate on every device, whether it's Pinterest or Tumblr. In a world where Smartphone devices have become the oxygen around us, it's imperative to at least try to limit the damaging effects they have on us. The dark mode goes a long way in accomplishing this.
However, it can also, in dim light, increase exposure to blue light, which has been known to disrupt the hormone, "melatonin", which is responsible for regulating your sleep-wake cycle.
So, yes there's a dark side to the dark mode, too. During the day, I would advise you to use this mode to facilitate readability. However, at night, I would suggest you switch back to your normal settings. There has been a 33 percent drop in individuals who are getting more than 6 hours of sleep in the past decade. This number is a cause for concern as inadequate and disorderly sleep has been linked to early death and a variety of diseases and disorders.
Related Tech-Recipes