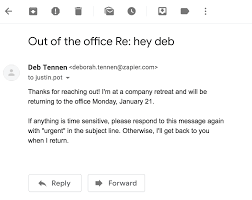 Setting up an out of office autoreply in Gmail means that if you are unable to respond to urgent messages, Gmail will automatically let your contacts know that. This beneficial Gmail feature comes in handy for times when you're travelling, have fallen ill, or face unexpected emergencies. In all such situations, essentially, you are away from your Gmail account and cannot respond to urgent messages instantly. It is better to let others know when you'll be getting back to them, rather than keeping them hanging. So, get to know how to set out of office autoreply in Gmail for Android to let a contact know, as soon as they've messaged, that you aren't available to respond right away.
Setting Out Of Office Autoreply in Gmail for Android
1. Log in to your Gmail Android app.
2. Go to Menu from the top left corner.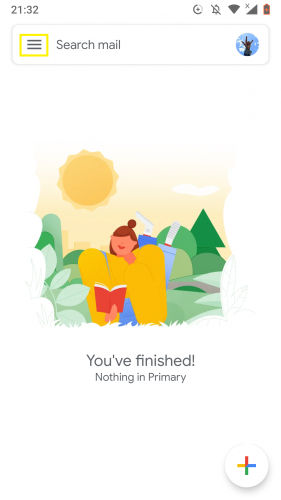 3. Scroll down the menu to Settings.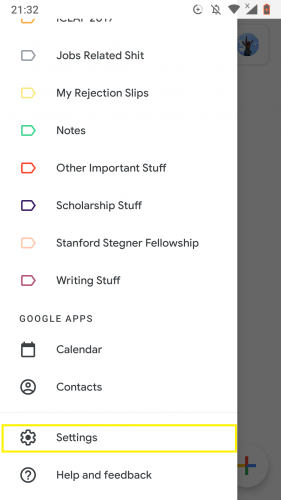 4. Choose your Gmail account.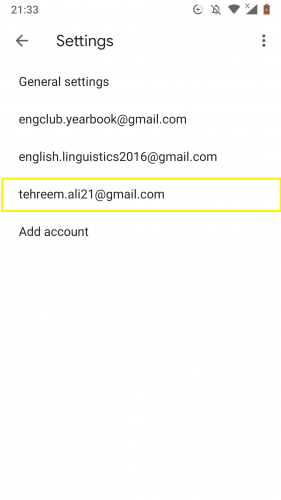 5. Under General, tap Out of Office Autoreply.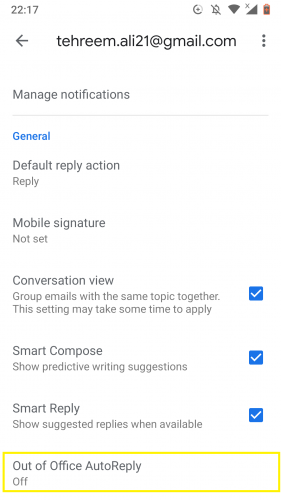 6. Turn the feature on by turning the toggle on.
7. Type in the subject and message as required.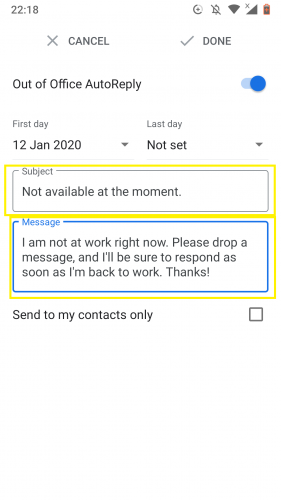 8. Choose the Send to my contacts only option as needed, too.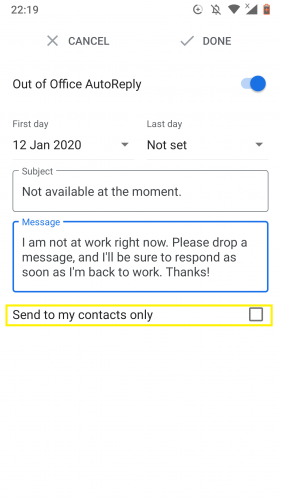 9. To set the first day your unavailability starts on, tap on First day.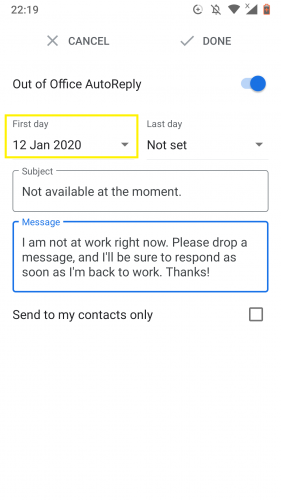 10. Tap on Last day to set the day you will be back.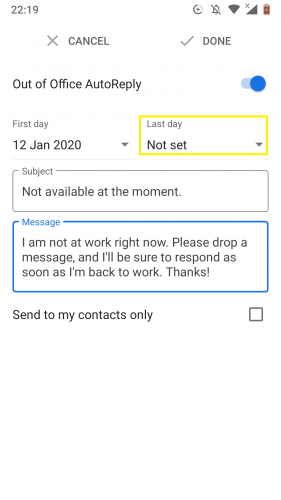 11. Select Custom.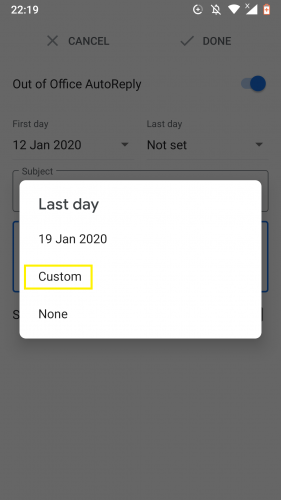 12. Choose last day from calendar.
13. Tap on OK.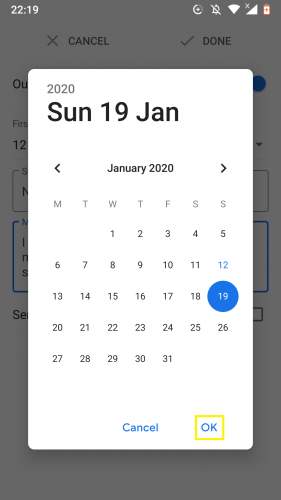 14. Select Done when you finish setting up the out of office autoreply.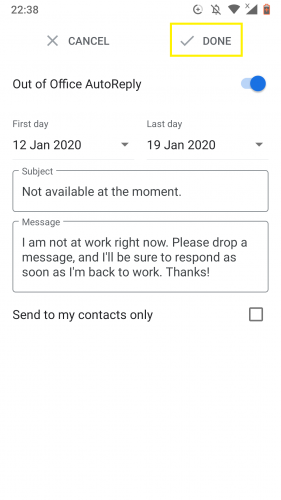 Frequently Asked Questions
1. What does it mean to have an out of office autoreply?
It is an automated prompt that is forwarded to a sender from your Gmail account, if you receive any message within a set timeframe. Now this timeframe is when you are out of office i.e. away from your Gmail and are therefore unable to reply right away. You have to set that timeframe yourself by setting the first and last day, as shown in steps 9 to steps 12 above.
2. Can I go back and change the subject line and/or message body of this autoreply?
You, absolutely. You can do so anytime.
3. Will activation of this feature affect the time and/or day I receive messages?
Not at all.
4. My contacts keep receiving the out of office autoreply even though I am back at work/am able to reply instantly. What does that mean?
Make sure you have turned the feature off once you are back in a position to respond right away to your messages. If not that then make sure you have set the correct last day from the autoreply's options' section in Gmail.
5. Can I set time in this autoreply, too?
Unfortunately, no. It only contains the option to set a day and date.
More on Android Tips and Tricks
There are many similar Android app features that would be worth knowing, such as:
Setting Up Emergency Information in Android 9
How to Set Gestures on Android 9
Customize Tiles Bar in Android
How to Add a Custom Lock Screen Message on Your Android
Give Your Android A New Look by Enabling Hidden Dark Theme (Nougat)