This tutorial will explain how to sync your OneNote 2010 notebooks to your Windows Phone 7's OneNote application.  WP7's built-in Office suite contains the great note taking application OneNote and allows one to sync notebooks between your desktop's Office 2010 and your phone's OneNote 2010. This also requires a Live / Hotmail account.
Syncing your OneNote notebooks between a computer and your phone is not straightforward. These steps will show how to do it.
1. On your PC, open up OneNote 2010.
2. Go to the Notebook you want to share / sync.  Then click on File > Share
3. Choose your Notebook (by default it should be selected) and if you haven't signed into Live Skydrive, click on the Sign In button and enter your Live,MSN, Hotmail, XBOX Live ID.  This will be the same one you use on your Windows Phone 7 device.  Once you sign in, click on the Share Notebook button in the lower right. It will upload your notebook to your Skydrive and ask if you want to send a link of the notebook via email, click on the Email button and send it to an account you have on your Windows Phone 7 device.
4. On your Windows Phone 7 device, go to your email and click on the link to "Open notebook in Onenote".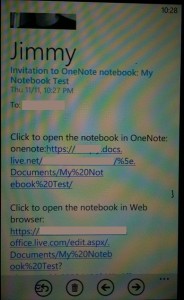 5.  This will open your WP7's browser to a page with your Notebook.
6.  IMPORTANT!! Click on the Onenote Icon in front of notebook name.  This will then import it into your WP7's OneNote and in turn will start syncing via Skydrive.