Multiple methods for getting Netflix to your TV now exists. With the Netflix application now available for the Wii, many people are wondering if that's a good option. Here is my take on the video quality of Netflix on the Wii.
Netflix is now available for the Apple TV, Xbox 360, PS3, and various other devices. While all of these are convenient for getting Netflix to your home entertainment system, how does the Wii video quality compare?
I tested Netflix on Wii using component cables to provide the best possible video quality from the Wii.
The video quality on the Wii maxes out at standard definition 480i/480p. All other devices are capable of HD quality 720 resolution and above.
Much of Netflix's instant streaming library is in standard definition. For those movies and shows, I found the Wii's quality to be very similar to the higher definition devices. However, with high-definition content, the differences are more pronounced. Colors were not as rich and the details were not as sharp on the Wii as on HD-capable devices.
The comparison shows the difference in the Apple TV and the Wii. This is from the exact same spot in the same movie.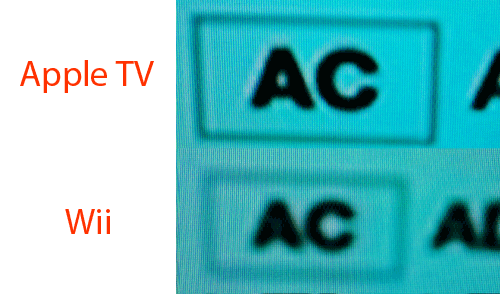 Netflix for the Wii is very convenient and polished. As a lot of Netflix's current "Watch Instantly" catalog is in standard definition, this is a great option for many people. However, if you desire HD video quality, you will have to choose another Netflix viewing method.