Our gadget geek provides an extensive evaluation of this off-the-grid charging solution.
Back around July 13th, I stumbled upon a very interesting Kickstarter project by Fenix International, the ReadySet Solar Kit.  The purpose behind this project was to develop a quick, easy, and durable charging solution. Such a kit would be extremely useful during natural disasters when power is limited. I donated and helped fund the project; and thus, I have received early access to the kit.
Being a tech geek, having an off-the-grid charging solution has been my holy grail.  Solar technology up until the last 2 years was promising but lacking in efficiency rates.  However, progress recently in solar cell technology has helped advance solar development tremendously in the portable realm and has sparked the recent rise of the social funded projects. Kickstarter is helping to crowdfund several of these projects.
Contents, Packaging, and Build Quality
I donated $225 for the project and therefore received the standard kit.  My box contained the following items:
ReadySet Intelligent Battery (12V, 9000mAh battery)
15-watt Solar Panel
AC Electric Wall Charger (USA plug)
3-watt High Efficiency LED Light
USB Universal Clip Charger
User Manual
The packaging is excellent and even sported a thoughtful handle.  Everything is packaged securely.  The solar panel has a peak rate of 15w. I have yet to fully test it since it has been cloudy this whole week. I will post an update to this when I get some sunny days. The ReadySet team says it takes 8-10 hours in direct sunlight which seems very acceptable.  The panel is very solid feeling and a bit heavier than I expected.  It has two power leads that easily connect to the main ReadySet battery unit.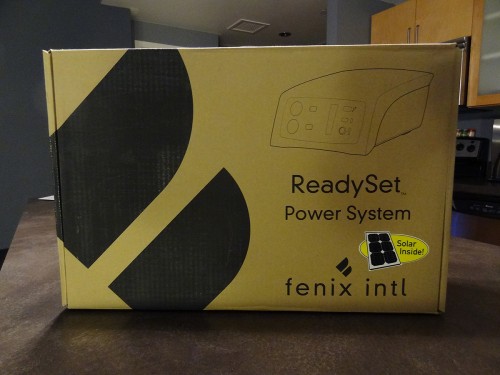 The ReadySet charging unit feels durable.  It has 2 x 12 volt front car charging slots, 2 usb ports, several led lights, and a single button.  The underside area has two leads that let you connect your AC charger which allows full traditional on-the-grid charging in 4-6 hours. Additionally, there is a Velo bike kit available that allows you to use a bike to recharge the unit's battery as well.
Recharge Methods:
1. On-the-grid via an AC Adapter
2. Solar panel (included or other types)
3. Velo bike recharge kit
The device is not fancy, but I believe that is the way it should be.  The device is no way unattractive, and all items feel solid and sturdy. The solar panel can be exposed to rain and water but should be stored in a dry area. The ReadySet unit itself appears to be rugged but should not be put in direct water or wet areas.
Charging
The ReadySet states that once charged it can charge an iPhone about 10 times. For my first test I charged an iPhone 4 from dead to 100%, and I was able to charge my Dell XT Laptop from dead to 50% before I depleted all the juice.  I used a portable AC inverter to charge my laptop so that too would be drawing power. Getting a fully powered mobile phone and half charged computer from a solar charging system seems exceptional to me.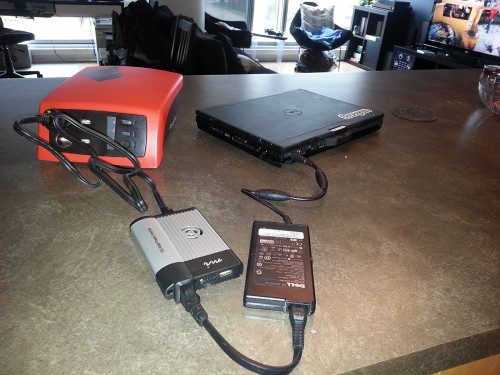 There is also an included LED light bulb that plugs in and allows you use the ReadySet for 10 hours worth of light.
Conclusions
Having the three various charging methods make this kit powerfully useful. For example, I plan to use this kit next summer while camping to keep my mobile devices and radio powered.  It will be an essential component of my emergency stores.
Availability is still limited to early Kickstarter backers; however, availability should open up within the next few months to the public.  Once it does, I believe this project will be very successful.  If you have ever thought about having an off-the-grid charger or just an emergency portable charger, this is a great and versatile kit.
I strongly recommend it.