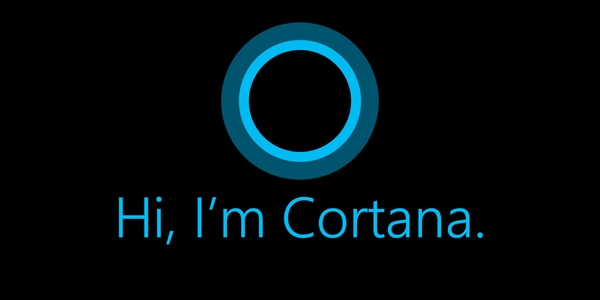 Windows has had the ability to search for your files from the Start menu for quite some time now. This is handy, especially if you do not remember where you saved a file. Windows 10 has incorporated the search functionality into Cortana, meaning that you now have the ability to perform file searches using voice commands with more natural language patterns. If I do not remember what I named a presentation that I was working on last week, I can search using "Show me presentations from last week," and it should show up on the results list. Keep reading to find out more about using Cortana to find your files.
Unfortunately, I have found this feature to be hit or miss. Sometimes Cortana works great, but often I have to try several times before it starts to function correctly. I have high hopes that this will remedy itself as Mircrosoft rolls out updates.
1. Launch Cortana by pressing the circle icon on your taskbar or by pressing Windows+C.
2. If you know the name of the file you are looking for, type or say the name. Cortana's results will show apps first and then documents, files, and folders that match your search. Click on the results to open them. Cortana will also display web searches you can run.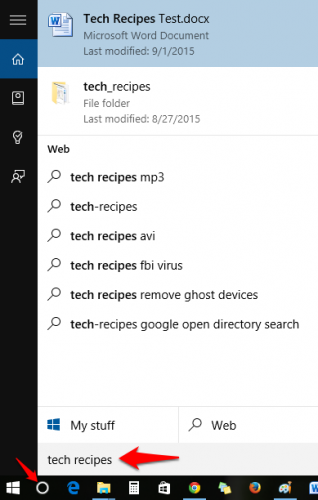 3. You can also search by file type and time frame. Start by typing or saying show me or find, and then speak or type a file type and (optionally) a time frame. Pick the result that has the Search documents text. Here are some examples:
"Show me photos from January."
"Show me files from last week."
"Show me presentations from 2014"
"Find recent documents."
"Show me spreadsheets from yesterday."
"Find Videos from last weekend."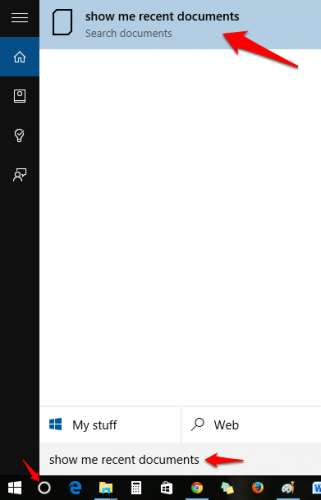 4. You can edit your search from Cortana's results screen. You can choose to sort by most relevant or most recent. You can also choose to filter by documents, folders, apps, settings, photos, videos, or music. You can edit your search text at the bottom of the screen. Once you have found the file you are looking for, click on it to open.