Accidentally sending a sexy text message to your dad is embarrassingly disastrous.  I wouldn't face him for days if I did something like that. But, hey! We're all prone to silly mistakes. Who hasn't among the human race done something to shame themselves? This how to delete Whatsapp messages  tutorial can however make amends for a message that was never supposed to be sent on the hugely popular instant messaging application.

Whatsapp's new update now allows users  to delete their messages. However, there's one caveat, you have to delete that message within 7 minutes. Once this preliminary period has elapsed, it will be irremovable from the chat. So, if you're having second thoughts about a message, make sure you act quickly to efface it from the world.
Even after deleting the message, there's no guarantee that the recipient already hasn't seen your text. But, at least after you've deleted it, someone can't take screenshots and forward it to the rest of the world and turn you into an overnight laughing stock, right?
This feature was in its beta-testing phase for months, but now to the delight of users, it's finally rolling out. Needless to say, it has been extremely useful. It is being commonly called by the Whatsapp community as the recall or revoke feature. After you've deleted a message for everyone, all recipients of that message will see a message," This text has been deleted." However, in order for the feature to work, both you and your intended recipient must be using the latest  version of Whatsapp.
Also, remember that, gifs, images, videos, all fall in the category of a message. You can also unsend them at will. So, even if you've sent a revealing nude to someone you wouldn't want to spend a single minute with, there's something you can do about it.
Anyway, let's proceed with the tutorial. It constitutes of simple and easy steps.
Step-By-Step: How to Delete Whatsapp Messages
1.  Open the Whatsapp Application.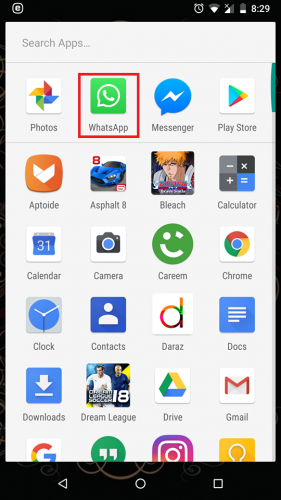 2. Go to the chat you want your message removed from and select the Message of Interest.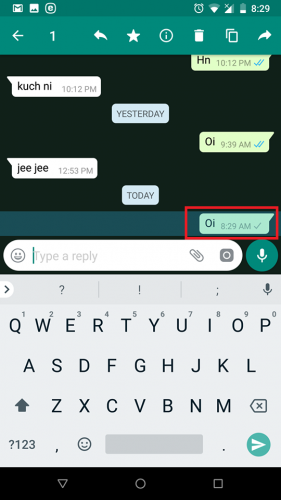 3.  Now click the trash can on the top, and select Delete for everyone.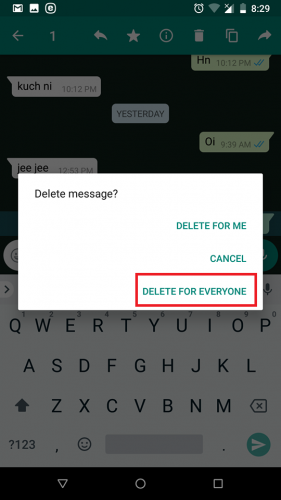 4. Tap OK.


Finally, you'll see this message which will assure you that your message has been revoked.

See, that's how to delete  Whatsapp messages that imperiled your social prestige. I have used this feature many times, because I often text things I shouldn't. After some reflection, I hasten to delete them. And with time, I've learned how to make my decisions within the 7 minute window, which has also helped me in certain aspects of my life.
Frequently Asked Questions
Will I be notified if the message I've deleted for everyone hasn't been deleted successfully?
No! That's why you have to make sure of this yourself. Whatsapp might add the notification feature in the future, but for now, you'll have to make do on your own.
This is how you delete Whatsapp messages with ease. If you have additional questions, or if you'd like assistance of any kind, please don't hesitate to ask them. Also, click my profile link to get further tech-related assistance.