Whatsapp just rolled out an amazing sticker feature available on both Android and IOS devices. This new feature has been anticipated for quite a long time now, and it has finally arrived. I'm super excited and ready to show you how to get this feature and also How To Use The Sticker Feature In Whatsapp.
---
How To Get The Sticker Feature In Whatsapp
For Now, the sticker feature is available on the Whatsapp Android updated beta version 2.18.239 and also available for the iPhone updated beta version 2.18.100. So if you have updated your Android or IOS devices to this latest version then you are in for the new sticker feature, but my job right now is to show you How To Use The Sticker Feature In Whatsapp.
There is also an addition to this, a sticker store will be available on the latest beta version. From this sticker store, you can download a whole lot of new entertaining stickers, but if you don't have that beta version yet, the stickers could be downloaded via Whatsapp web.
---
How To Use The Sticker Feature In Whatsapp
Once your Whatsapp version has been updated to the latest beta version, this sticker feature will be available on your chat screen. All you have to do when you are on your chat screen is click on the chat box that will bring out your phone's keyboard.
Note: You need to be better tester before you can download the WhatsApp beta version. You can become a beta tester by clicking on this link https://play.google.com/apps/testing/com.whatsapp
Normally beside the chat box, you'll see the usual emoji icon, but now with the new beta version, the sticker icon will be present and fully functional.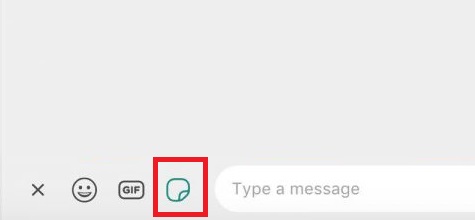 Click on the sticker icon to bring out the sticker dialog box and then choose from the array of sticker options and click on the sticker you prefer. Once you're done with that, the sticker will be sent to your friend and you can spice up your chat and add a little craziness if you like, to your chat.
For now, there aren't any steps to show you exactly how this works, but what I have put down above is meant to help you use the sticker feature on Whatsapp to the fullest.
---
How To Add Stickers In Whatsapp
If your Whatsapp is up to date to the latest version that supports Stickers you would basically just need to;
1. Tap on the "type a message" bar and click on the emoji icon.
2. Click on the sticker icon and choose your preferred sticker.
Alternative Way To Use Sticker On WhatsApp
If you can't wait for the Official release of the WhatsApp that will come with the sticker feature, and you don't want to become a beta tester, you can try this alternative.
1. First off, you need to download the stickers from google plays store, a provision has been made for you and me to download Whatsapp stickers and add them to your Whatsapp. Whatsapp Sticker pack
Once you have successfully downloaded the stickers from google play store, you will need to add them to your Whatsapp. Now how do you do that? follow me closely.
2. Open the sticker app that you have just downloaded and then select a sticker of your choice.
3. Once you have clicked on a sticker of your choice, a dialog box will pop up and you will need to choose where to send the sticker, choose Whatsapp of course.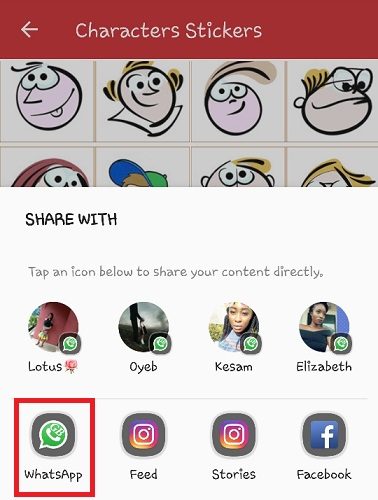 The instructions might defer from other Whatsapp sticker apps, Yes! there are also other amazing Whatsapp sticker apps on google play store. So, anywhere you are asked to send stickers to or anywhere you see the send or share button from the sticker you have selected, choose Whatsapp and share the sticker and automatically add it to your conversation screen.
Once you have sent the sticker to Whatsapp, the Whatsapp message app will open and all your contacts will be visible, choose which contact gets the sticker and add it to your chat.
It's that simple and easy to get the Whatsapp stickers, add them to your Whatsapp conversation and add them to your recent sticker option.
Conclusion
The new Whatsapp sticker feature is extremely amazing, better than we thought and worth the wait. It gets better with time, Whatsapp isn't done with us just yet, more cool and amazing stickers will be added from time to time, with every new update will come new stickers. This feature works on all Android devices and IOS provided your Whatsapp messenger is up to date, with the beta version.
Thank you so much for viewing this article, as always it has been a pleasure, till next time bye.