Some Instagram users hasten to get Instagram followers without weighing in the implications. What this unthinkable drive to earn "quick fame" does is drive stalkers, bots, and strangers. They add no value whatsoever to your Instagram account and only serve the purpose of increasing "hollow statistics".
On Instagram, quality always takes precedence over quantity. You should always strive for a small, controlled, and engaged following and take steps to gradually build it up, organically.
So, if you've made the mistake of adding unwanted followers on your Instagram account, and want to make amends, here's how to remove followers on Instagram with a few easy steps.
How to Remove Followers on Instagram: Step-By-Step
Note: You don't have the option to remove Instagram followers from Instagram.com on your browser. You will have to do this on your smartphone device. Otherwise, it will not work.
1. Open the Instagram app.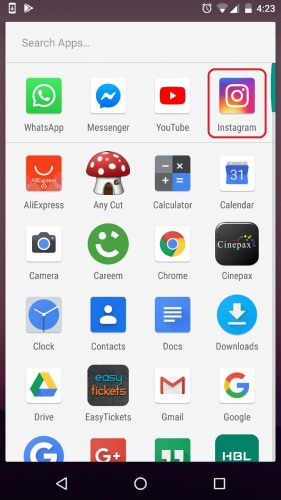 2. Tap the Person or Profile icon in the right bottom corner.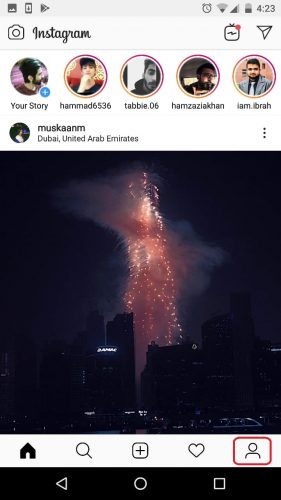 3. Tap the Followers button on the top.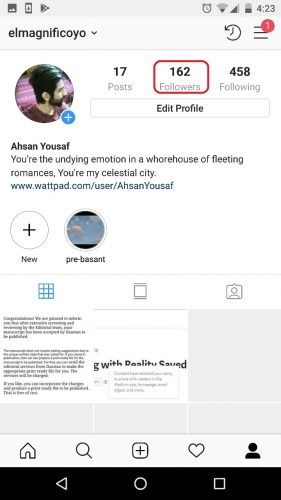 4. A list of your current followers will appear. Select the three horizontal dots adjacent to the follower you wish to remove.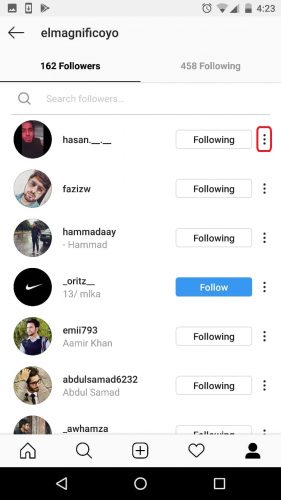 5. Choose remove.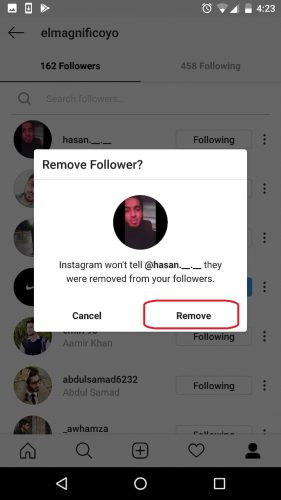 6. Repeat these steps to remove other followers.
Note: Instagram doesn't notify a removed or deleted follower. If he find outs out you've unfollowed him and your profile's set to public, he can follow you again. To ensure this doesn't happen, change the privacy of your Instagram profile to private or block the Instagram user, altogether. 
Steer Clear From Bulk Instagram Follower Removal Apps
You might be tempted to use apps that promise to remove Instagram followers in a single go. And it's understandable. Who wants to go through the hassle of manually kicking out users one-by-one?
I would heed you to tread with caution if you choose this precarious path.
These Instagram management apps are banned according to the rules and regulations of Instagram mentioned in their API Platform Policy.
They could end you in dire trouble with their management and even lead to a permanent ban of your account. They could also come heavily loaded with spyware and malware and compromise the security of your phone.
If you're worried that you have a lot of unwanted followers on your account and don't know how to sift them out, you can use a service like Hubspot marketing. It lets you know which followers are actually engaging with you and which are just adding to the "follower count".
How to Identify Unwanted Follower Requests
We've all come across follower requests from absolute strangers, with no idea whether to accept or refuse. In that case, if the account that sent you a request is following a truckload of Instagram users, with a minimal follower count of his own, or is disseminating promotional or adult content, he is most likely one of those good-for-nothing followers.
You're better off without him.
How to Remove Followers on Instagram in Your Browser
Sometimes, we don't have our phone at our disposal. We have to immediately get rid of an Instagram follower. So what do we do in these untoward circumstances?
In this case, go to Instagram.com, visit the profile of the user you want to unfollow, click the three horizontal dotes beside the name of his profile and select block this user. Now go to your block list and unblock this user.
The Instagram account will no longer follow you. It will be able to send you messages or tag you in posts and even see comments if you have a mutual friend, but will not be able to see your posts, as he will now be an exclusive non-follower.
Still not sure how to remove followers on Instagram? Check out these related tech-recipes to make things easier for yourself.
Engage Followers with Live Video Feature
Block Unwanted notifications from Unknown Instagram Followers