It has always been our pleasure to bring you the best result for your search and I believe your experience has always been putting a grin on your face. Today's article is here to teach you something unique, which is How To Use Manual Keyword Filter On Instagram.
Are you tired of seeing flimsy comment on your Instagram and you are wondering how you can officially stop it? Don't worry today's tutorial is going to show you how you can make use of manual keyword filter on Instagram to stop or hinder such comments from your videos and photos.
To some persons, I know the word Manual Keyword Filter may sound strange but don't worry I'm going to break it down for you briefly before moving ahead with the steps on How To Use Manual Keyword Filter On Instagram.
Manual Keyword Filter is a feature that is always used to decrease offensive or unproductive comments from users Instagram photos and Videos on their personal account. As you follow this article carefully to the end, it's really going to help you get rid of being pissed off whenever you come across irrelevant comments on your Instagram.
Note: If you are not specific with the word or group of words to be filtered, Instagram might automatically help you filter some word that it feels are worthless comment based on it appears.
Alright, Let's proceed in showing the steps on How To Use Manual Keyword Filter On Instagram so as not to bore you with long talk.
Trust me the steps are just too easy to get. Read carefully.
How To Use Manual Keyword Filter On Instagram
1. Open the Instagram app on your device.
2. Go to your profile.
3. Tap on the three dotted icon on the top right of your device.
4. Scroll all the way down and tap on comment controls.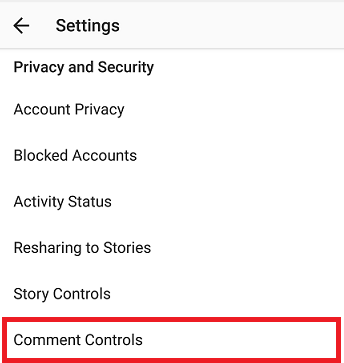 5.   Toggle on the Enable Keyword filters button.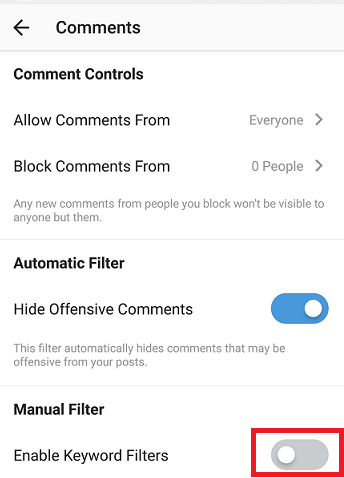 6. Tap on the space below and add words to the custom keywords text field.
Separate each word you don't want to show in your Instagram media comment with commas. After the keyword(s).
There you have the steps on How To Use Manual Keyword Filter On Instagram
Now, If you carefully followed the steps above, congratulations you have successfully saved yourself from a flimsy comment on your Instagram photos and videos.
If you still having difficulties in getting the steps above, I will still break it down for you shortly. The steps above is as simple as adding a word like "Racist" to your filter, so whenever anyone comments with such word "Racist" it will not show in your comments. That's how simple it is.
I believe you got that right. But if you still have a question or contributions regarding this post scroll all the way down and use the comment section below.
Thank you for sticking around to the end of this post.
Frequently Asked Questions And Answers
Q: Is there a specific number of words that I can filter out the comment on my Instagram.
A: There is no specific number of words needed
Q: If I successfully Filter words on my Instagram, will it affect other people Instagram page?
A: The answer is No.
Some useful links you'd like;
How To Post Pictures On Instagram From A Laptop
How to Automatically Share Instagram Story to Facebook