Google, as we all know, is likely the most popularly used search engine in the world, Google records billions of daily users and thus far, Google has provided quality service to its users. Google map is a navigation app that provides direction and in-depth (detailed) map view of different locations to help you arrive your destination with ease, this navigation is made possible and easy through the GPS (global positioning system).
Google map offers advanced features like measuring distances and letting you know how long it will take to arrive your destination, getting traffic information of your route, verbal instructional guide (very useful when driving), location sharing/editing and a lot more.
The street view on google map is an additional feature, this modified feature aids in getting a better view of an area, more like a 360 degrees' view.
This helps for better navigation, in cases of not being familiar with an area or trying to get your current location and getting to your destination even without a human direction. This feature, being able to provide detailed street information and a clear view has made google map very interesting and useful. I once found myself in a situation where I desperately needed directions to arrive at my destination in time to meet up a deadline, I was discombobulated while trying to recall the route knowing that I was quite close to my destination, I immediately turned on my google map, turned my mobile phone sideways for better view and I navigated through the map and located my destination whilst I redirected speedily to my destination.
That experience pushed me to write this article on how to use street view on google map.
Without further delay, let's go straight to the steps for today's topic on how to use street view on google map.
How to use street view on Google map
1. Go to google map app.
2. At the top of your screen, search for the street or area you want to view.
3. Drop a pin on the street you want to view.
4. Tap on the street image to view.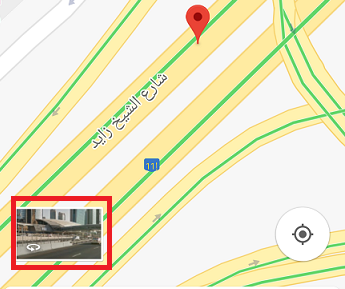 By following the steps listed above, I am sure you would have had a view of the street of your choice, that is if a picture of the street has been uploaded to the google map database.
Note: Street view is enrolled through an independently updated street view module.
Frequently Asked Questions and Answers
Q: Can I search for a street that is not on google map?
A: first, you have to search for the street before you can find out if it's on google map, but google map covers almost everywhere in the world.
Q: Is it possible to add my own street view to google map?
A: Yes it is possible while searching for street view on google map, there is a provision for you to add an image.
Q: Is it possible that for me to navigate or rotate the street view?
A: Yes, the uploading format allows you to navigate or rotate the image by swiping left or right or probably tilt your phone in any direction for the 360 mode after you tap on it.