Hello, have you ever thought of a way to share your Gmail theme with friends and contacts? Well, you have nothing to worry about, today I will be showing you how to share your Gmail theme.
Gmail, also known as Google mail is a free advertising-supported email service developed by Google. Gmail has made it easy for users to access using third-party programs through POP OR IMAP. Gmail initially provided 1-gigabyte storage per user but currently, Gmail has advanced and now provides about 15 gig storage for each user, this is why Gmail records so many users because of its swift features and friendly interface.
Let me give you a brief description of what an email is as you may already know; an email (electronic mail) is a message or an electronic mail distributed by electronic means from one computer or device to other recipients through a network.
Well, the knowledge of how to share your Gmail theme is beneficial to many Gmail users. This write up was inspired by a friend that asked me if it is possible to share Gmail theme, he had a glim at my Gmail user interface and was marveled at its colorful appearance, so he first asked if that was Gmail and when I answered he wanted to know how to get it, I told him I would share mine, he didn't understand until he got an email from me saying "I'm using a custom theme in Gmail on the web and I think you'll like it too" then a link was attached below. He was exhilarated and appreciative, that is why I decided I should share this knowledge with my wonderful audience.
Note: You must first have a theme active in your Gmail account before you think of sharing.
Without further ado, let's proceed to the steps on how to share your Gmail theme
How to share your Gmail theme
1. Log in to your Gmail.
2. Click on the settings icon.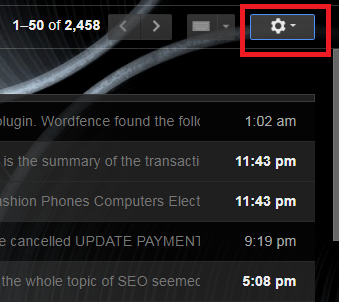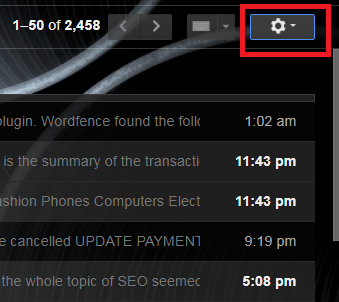 3. Click on share your theme.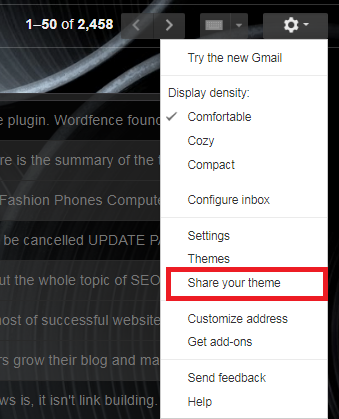 4. Insert email you want to share with or copy the link of your theme and share.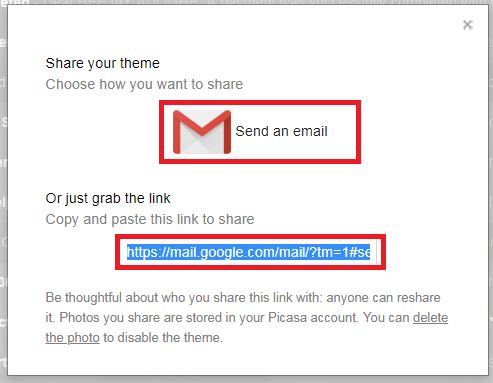 If you have followed the steps I have listed out then you must have achieved your aim on how to share your Gmail theme. It's easy, isn't it? I find it very interesting to know that you can share your theme with ease.
After you have shared your theme via email, the recipient will receive a message telling him/her that you are using a custom theme and a link will be attached to access the theme.
Gmail has offered privileges for users to customize their email accounts to their taste, so why stay stereotyped? Why not try to explore options.
Frequently asked questions and answers
Q: Can I share the same theme with many contacts?
A: Yes, you can share your theme with as many contacts as you wish.
Q: Will the link that is attached to the message give my contacts access to my mail?
A: No, the link will only give them access to getting your kind of theme, there is no access to your mail or messages.
Here are some articles you may like;
How To Use Google Translate In Gmail
How to switch to the new Gmail interface
Android: How to Logout from Gmail App [Solved]