I am back again with yet another exciting but yet problem-solving topic. Did you know that it is completely possible to Change result per page on Google search? No? Well, you actually can change the number of search results that appear to you when you search for a term using Google search engine. 
It is without a doubt that Google is the number one Ranking website in the world. You know what that means, more users and visits per day. we are literally talking thousands maybe millions of views per day. Like I have always said. I am a big fan of customization or anything that has to do with tweaking. I was totally happy and pleased when I realized that I could actually change result per page on Google search.
I think Google by default shows about 9 to 10 search results per page. You can tweak this and make Google show 20, 30, 40, or 50 results. You can even go as far as making Google show 100 results per page, but this might make your Google search engine experience slow. According to Google, for faster performance, it is best to leave your result per page at 10. This decision, however, depends on you. You decide!
I remember once when I tried using 50 results per page. I didn't really like it I must say. Now, if you a blogger, vlogger or SEO expert. It's best you leave your result per page at 10, this way it is easy to know your search engine rank position.
Okay, time to cut to the chase.
How to Change result per page on Google Search
1. Go to Google.com on your PC.
2. Search for a term of your choice.
3. Click on settings.

4. Click on search settings.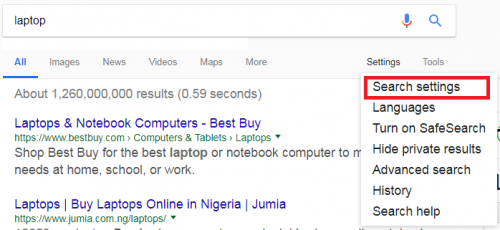 5. Under the "results per page" select the number you want.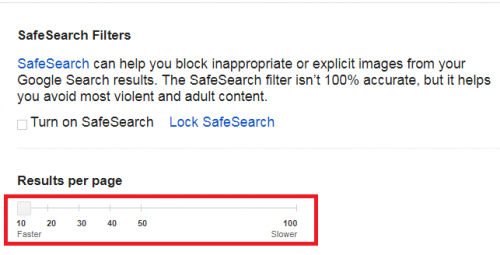 6. Finally, scroll down and click on save.

That's basically how you can change result per page on Google search with so much ease. Remember that the higher your result per page is the slower your Google search experience can become. No one wants a slow Google search experience. A recent search I made on Google gave me results in 0.36 seconds. That's fast, I love fast. If you change result per page on Google search to a higher number. You might not get that speed.
Okay, here's the part where I round up. Thanks for stopping by to read. I hope you enjoyed reading this article as much I did enjoy writing it.
Frequently Asked Questions and Answers
Q: Can I revert my settings after changing it?
A: Sure, there's no limit to the number of times you can change result per page on Google search.
Q: I have changed my result per page but the changes are not effective, what do I do?
A: Did you save your changes? This is important.
Q: Will the change be effective on all my Google Accounts?
A: No, you have to manually repeat the same process if you want to change result per page on your other accounts.
Here are some articles you'd love;
How To Change Google Search Language
How to Download Google Maps Offline — Navigate Anytime!
How to Change Google Maps voice — Switch to a Different Navigator
How To Turn Off Auto Update On Google Play Store