Hey There! you're welcome to today's post on a mind-blowing topic that I have titled How To Share Boomerang On Facebook. Trust me this post is going to add something to your knowledge and make you feel on top of the world.
Okay I know today's topic may sound strange, but don't worry after careful review of this article you will need to contact us just to pour out your heart of gratitude for introducing you to Boomerang and show you how to even share boomerang on Facebook. So relax it's going to be an awesome experience. I'm going to try as much as I can not to bore you with long talk.
Are you a random Facebook user? Have you ever come across a boomerang video? If you haven't, Boomerang is an app that helps you create short videos.
With the help of Boomerang, you can create a one-second video that can be shared or saved to your device. It exists outside the world of Facebook and Instagram, but can also be shared on either platform.
Alright, you want to know how this is done, let's begin with the steps on how to share Boomerang on Facebook. It's going to be short and easy
Note: To share a Boomerang on Facebook, you need to have the boomerang App already installed on your device.
How To Share Boomerang On Facebook
1. Launch into your Boomerang App.
2. Create a Boomerang video.
3. Tap on Facebook to share.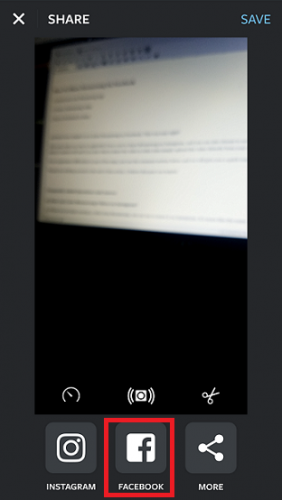 And that's how simple it is to share Boomerang on Facebook. That was easy right?
This same steps can also be applicable if you want to share Boomerang on Instagram, and you can also choose to save Boomerang videos to your phone's camera roll and if you also what to share the video to other sites simply upload the video directly from your device.
If you experience difficulties in any of the steps, just use the comment section below and we will give you a quick response as regards to this post.
Thanks for sticking around to the end of this article, I believe this post was helpful.
Frequently Asked Questions And Answer
Q: How can I save Boomerang Videos on Instagram?
A: When you are done creating a video from Boomerang, you can tap to share it on Instagram. It's more like the same process with Facebook and quite easy.
Q: After creating a video on Boomerang, how long do I need to wait before I share?
A: There is no particular time frame to tap on the share icon, just do it when you are done creating the video
Q: If I share Boomerang on Facebook will I get any notification via email or SMS
A: You will not get any specific notification
Q: Do I need to subscribe to Boomerang before I can create a video
A: The answer is No. All you need to do is install a Boomerang App
Here are some related articles;
How to Add Multiple Photos to Instagram Story
How to Add Music to Instagram Story — Make Your Stories Compelling
How to Hide Comments on Instagram Live