Hello, I want to welcome you to another interesting session, in today's article I will be showing you how to change google search region. Have you encountered situations where you wish to change your google search region? Or perhaps you are not comfortable with your current Google search results from your region? Well, you don't have to worry anymore because I will show you how to change google search region.
What is google search region? Google is the most popular website in the world with multi-daily users has different preloaded locations in its database and it automatically detects your current location via your computer's IP address, location history and otherwise. In other words, Google previously allowed people use specific domains to explore their search results optimized for that region but now Google has modified that feature in a way that they now localize search results by the country you reside in, once you leave that country to another, your search region changes by default.
So, having understood what google search region means and how it works, you would also understand the essence of exploring search regions. This google set default region is not a restriction from visiting other country search regions, you are enabled to change search regions and this is what I will show you in a jiffy. Most Google users are ignorant of this fact "change google search region" and do not deem it wise to explore this feature, well, personally I fancy this feature because it has helped many users to the best of my knowledge. Also, it's easy to find out if for any reason the location Google has set for you by default is wrong or correct and if need be, then you can change it. though I am sure the percentage of finding this error is very slim.
Without further emphasis on the traits that this feature offers, let's go straight to the business of the day. Please read carefully and follow the steps below.
How to Change Google Search region
1. Go to Google.com
2. Search for any term.
3.  Click on settings.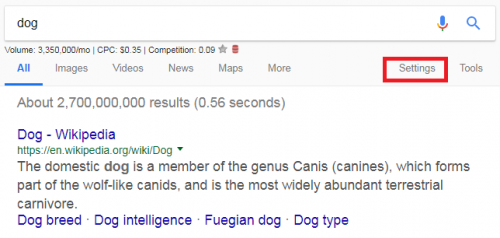 4. Click on Search settings.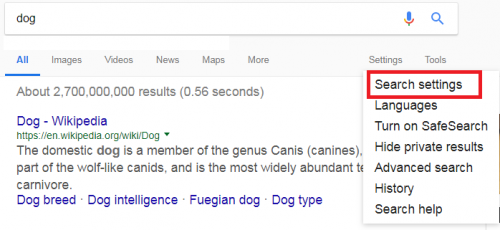 5. Scroll down to region settings and choose a location you want to enable.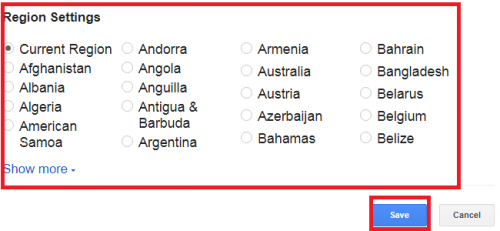 6. Click on save to save your settings.
If you have followed the out listed steps carefully then you must have achieved your aim on how to change google search location. When you have gotten to step 5 you would discover that your current region is set to default by Google, then you can change the location, you would see a mark ticking right beside the country you have chosen.
I hope this has been helpful?
Feel free to explore other search regions and get different results.
Frequently Asked Questions and Answers
Q: Can I activate the "default" after I have changed google search region?
A: Yes, you can activate the default search region set by Google, all you need do is follow the same steps and chose default.
Here are some links you would like;
How to Change Result Per Page on Google Search
How to Download Google Maps Offline — Navigate Anytime!
How To Turn On Google Safe Search
How To Change Google Search Language