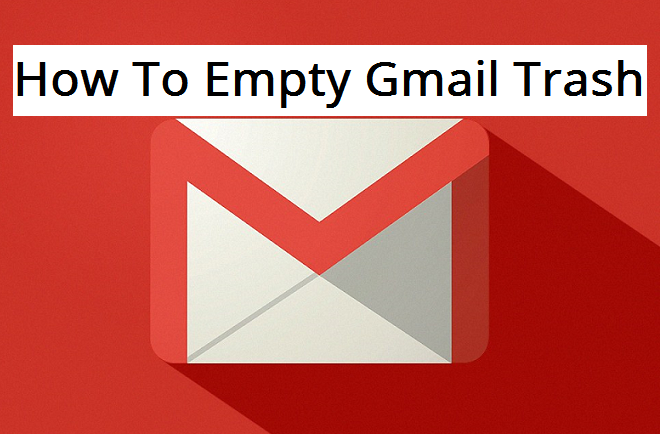 Hey there, Gmail user. Today you are gonna learn something very interesting and worth sharing. Today's tech-recipe is centered on Gmail. After reading this article you will learn how to empty Gmail trash. Gmail is one of the best email platforms with lots of powerful features.
Like every email platform, there's always a trash.
In case you don't know what a trash is in Gmail terms, I'll explain it to you.
Gmail trash is literally a waste bin. That's where you put all the unwanted emails, spams, old and junky stuff.
Like normal waste bins around, it doesn't have to be kept for a while.
Wanna get rid/empty Gmail trash? Just read on.
In a real-life scenario, keeping your trash for too long could make it fill up, smell bad or just let's just say it's not really cool.
Now back to Gmail. It's always normal to look for the delete button whenever we feel like deleting an email that doesn't seem useful anymore. That's true. But, do we really care about checking the trash can in our Gmail, the way we check the physical refuse/trash bin around us.
The trash bin in Gmail actually packs a whole lot of junks (because you deleted them). The more emails you delete, the more your trash gets full.
Now just think for a while.
Can you figure out how many emails you have deleted from the very first day you opened a Gmail account? Well, the answer is best known to you. It could be 10,000 or even 20,000.
Why would you even be keeping the trash emails for so long? It's just like cleaning up your house and leaving the dirt in one particular place for a long time.
By the way, there are some emails you might find useful in the trash. But you deleted it, why didn't it just go away? The trash saves what you deleted so you can use it whenever you want.
Now that you understand how and why the Trash in Gmail works the way it does, let's dive into the tutorial.
How To Empty Gmail Trash
Less I forget, the trashed emails also occupy some of your space and the more you keep piling them up, the more unnecessary space there would acquire.
You should endeavor to check if there's an email you might need in future that was deleted. You can manually search for it before proceeding.
To empty Gmail trash, follow these steps.
1. Login to Gmail @ mail.google.com with your correct Gmail login credentials.
2. Click on more.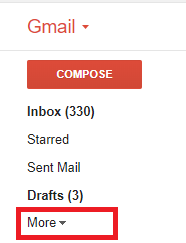 3. Then, Click on Trash.
4. In the trash section, you will see a notification at the top and a button that says: EMPTY TRASH NOW, Click on the Empty trash now button.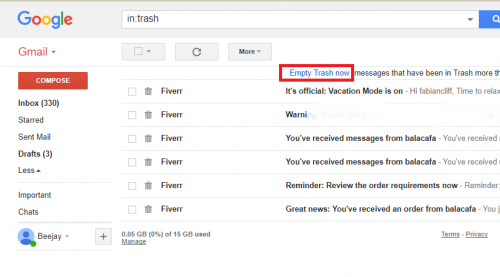 5. Another notification/prompt will pop up asking you to confirm if you really want to permanently delete all the emails in your Gmail trash folder. Click on "OK" to clear the emails from the trash.

And that's how easy it is to empty Gmail trash.
Frequently Asked Questions And Answer
Q: Do I need to manually empty my trash all the time?
A: It's good to always empty your trash to save space and remove junk emails. Gmail automatically deletes trashed emails as soon as it's up to 30 days.
Q: Can I delete emails permanently with just a click?
A: No, Emails you delete must go to the trash bin first. It's necessary in case you change your mind, you can recover the deleted emails.
If you have any question, feel free to drop a comment via the comment box.