Uber makes it extremely easy for its customers to get to one place from another. But with Uber's saved places feature, you can save places you visit everyday, almost everyday or often, so that Uber remembers the address and saves you previous time that would otherwise be spent adding addresses before booking a ride. You can edit and even remove an already existing saved place on Uber. You can visit your saved places and manage them any time you like, however you like. So, read on to find out how to manage your saved places on Uber (Android).
Managing Saved Placed on Uber (Android) – Saving a New Place
1. Open your Uber app through your Android device.
2. Tap on the More icon on the top left corner.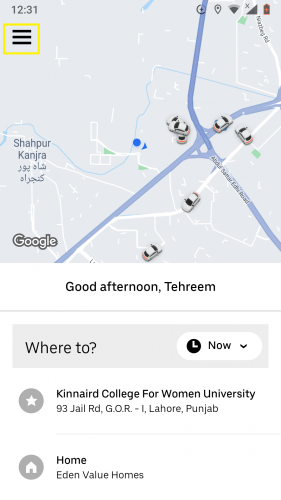 3. Go to the end to Settings.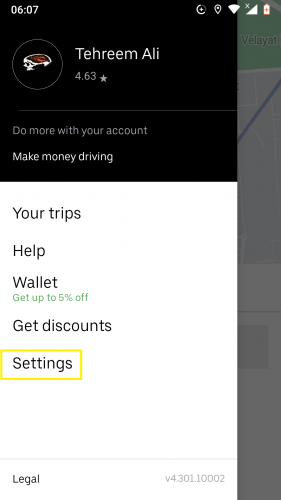 4. Tap More saved places.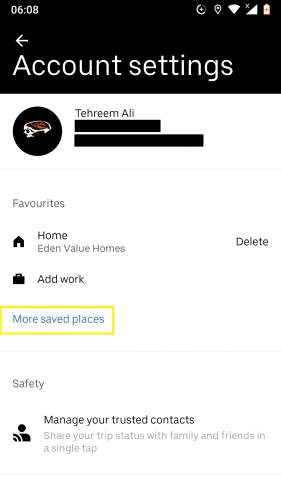 5. Then tap on Add saved place from the page you are redirected to.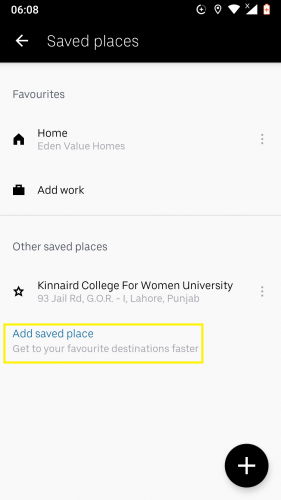 6. Type in the address of a new place you want to save.
7. Set its name, as needed.
8. Tap SAVE at the end of the page.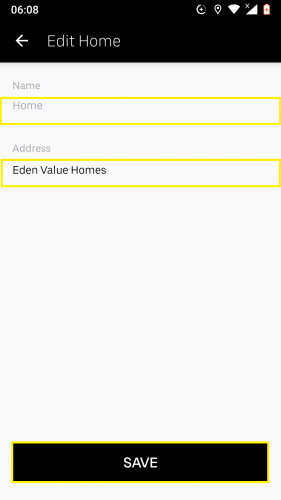 The new place has now been saved to your list of saved places in Uber. Next time you visit that place, entering the first few letters of that place's address will bring it up forth quickly in the address bar before you book a ride.
Managing Saved Placed on Uber (Android) – Editing and Removing an Already Saved Place
9. To edit an already existing place, tap on the 3 dots iconnext to a place.
10. To edit the name or address of a saved place, tap on Edit > edit name/address > SAVE.
11. To remove a saved place, tap on Remove.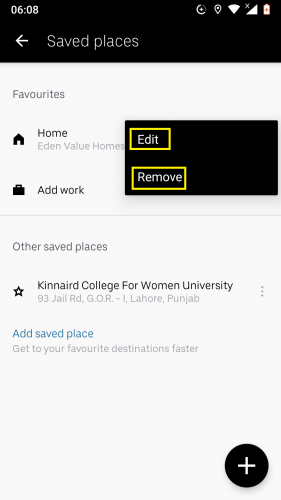 The saved place will no longer appear on your list of saved places in Uber.
Frequently Asked Questions
1. Will a saved place be there if I uninstall then reinstall the Uber app on my device?
Absolutely. Reinstallation has nothing to do with the content already saved within the app.
2. Is there a limit to the number of saved places I can add in Uber?
Not at all! You can add as many places as you like. They do not necessarily have to be places you visit often or everyday or anything like that. They can even be places with such a long address that it is time consuming to type in that address and book a ride for that destination. To make things easier for yourself, simply add it in your saved places, so that next time you have to book a ride for that same destination, you will not have to waste time entering its lengthy address.
3. Does the name and address of a saved place have to be different?
Some places have addresses that contain its name within the address too. But the name can be a generic term also, such as 'home' or 'grocery store next to home.'
More on Related Topics
How to Set up A Business Profile on Uber (Android)
Log Out of Tumblr in the Android App
How to Create a Private Board on Pinterest for Android
Manage Discover Interests on Android