How to Manage Discover Interests on Android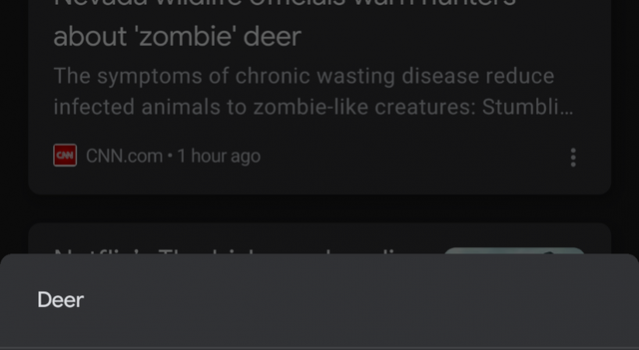 The right-swipe news feed on Android is one of its easy-to-access and attractive features that come in very handy for every type of user. It has made staying up-to-date with the world highly smooth; you wake up in the morning and swipe to the right on your Android 9 device and there it is. The goings-on in the world. What is even more amazing about this news feed is that you can manage your interests according to your likes, hide the ones you dislike and so on. So, keep on reading to discover how to manage Discover interests on Android 9.
 How to Manage Interests on Android 
1. Swipe to the right from your Android 9's homepage to access the news feed.
2. Tap on your Google account's profile image.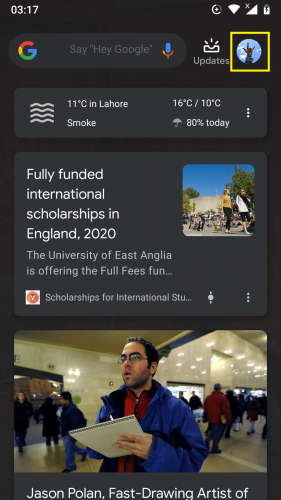 3, Select Settings from your Google account options' list.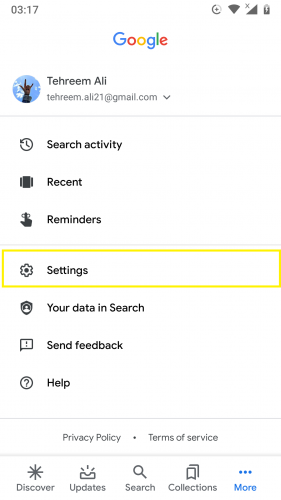 4. Tap on Interests.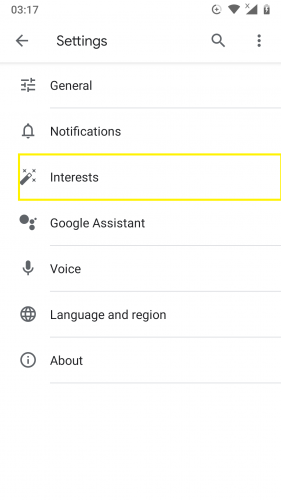 5. Go to Your interests.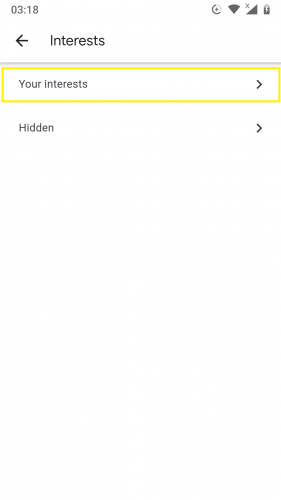 6. To make yourself visible to business profiles/accounts you follow, turn the following toggle on.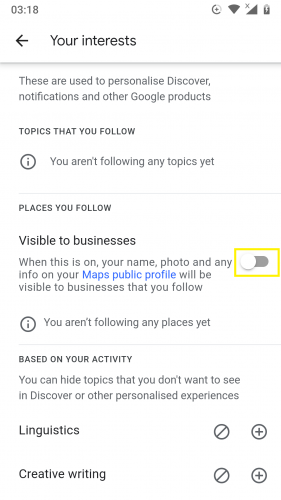 7. To hide a topic you searched for in the past using Google, tap on the highlighted icon.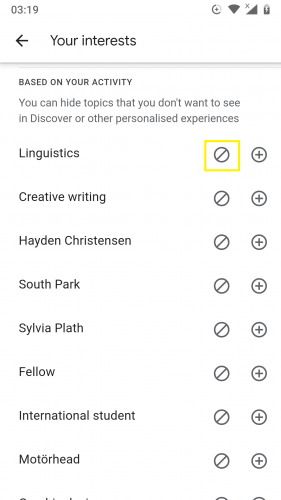 8. To follow a topic you searched for on Google, tap the + icon, as shown below.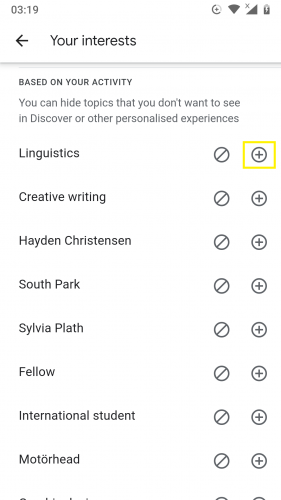 9. To view hidden topics, go to Hidden from the previous page.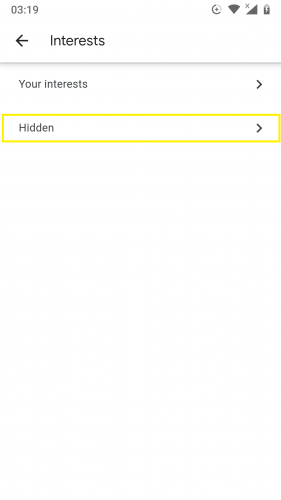 10. To unhide any topic you searched for in Google, tap on the red minus icon.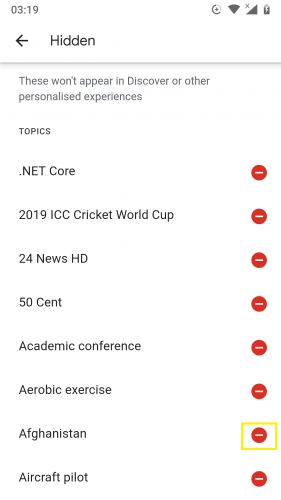 11. To hide it again, again, tap on the hide icon.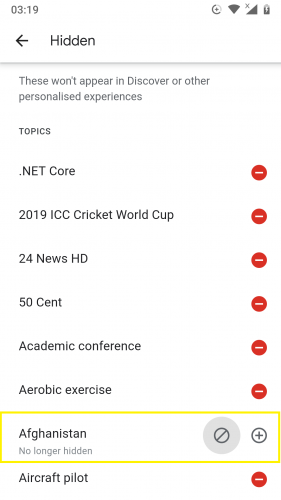 12. To follow a topic that has been hidden, tap on the + icon appearing before it.
Frequently Asked Questions
1. Will my interests disappear when I log out of my Google account from my Android 9 device?
No.
2. Will hiding topics from interests' section on my Android 9 device also remove their history from Google search?
No; the two are independent once you have set a topic as your interest or hidden it from your interest topics' list.
3. What happens after I hide a topic?
You will no longer see content related to that topic appearing on your swipe-right news feed on your Android 9 device.
4. What happens after I follow a topic?
You will begin to see news related to that content. You will also get notifications related to any kind of postings made online regarding that topic. All-in-all, you will be kept in the loop after you follow a topic.
5. Why do I need to manage my Discover interests on my Android 9 device to begin with?
There are countless topics you search for on Google on a daily basis. Some of them might become highly irrelevant to you later, yet news content related to those topics might keep filling up your news feed. To get rid of such unwanted topics, you manage your interests.
More on Android
If you found this article helpful, you might find yourself benefiting from the following topics, too:
How to Set Gestures on Android 9
Customize Tiles Bar in Android
How to Add a Custom Lock Screen Message on Your Android
Give Your Android a New Look by Enabling Hidden Dark Theme (Nougat)
An established copywriter, with a longstanding experience in a vast array of industries, including but not limited to spirituality, technology, cannabis and travel.
View more articles by Sheraz Ali
The Conversation
Follow the reactions below and share your own thoughts.