To deliver the best user experiences, apps in Windows phone 8 are allowed to perform periodic or intensive resource tasks in the background even if the main app is not running. While this feature can be useful at times, it can also drain the battery quickly. Luckily, it is possible to disable the unwanted tasks of choice.
Please note that disabling the tasks does not mean disabling the apps. They are separate entities. Most of the tasks from third-party apps can be disabled. System tasks cannot be touched by users.
1. Go to the app list and choose Settings.

2. Swipe to the left of the screen to access the applications section, and then choose background tasks from the list.
3. The background tasks section shows you all the blockable apps. By default, you should see that all apps are allowed to run in the background. Please note that not all of the background tasks are blockable. The unblockable ones are usually system apps or apps from the phone's maker.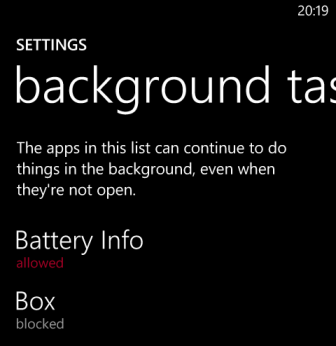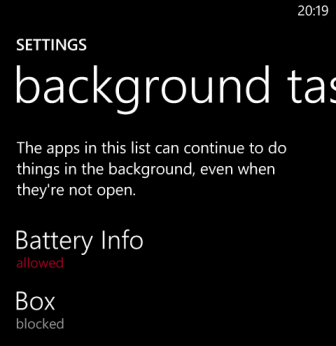 4. To block an app, choose the app and then tap the block button.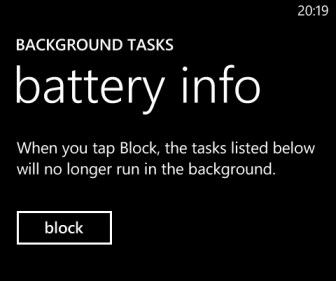 5. Later, if you want to unblock the app, just come back to the same setting and choose Turn background tasks back on for this app the next time I open it.