The use of mouse over hyperlinks is an effective method for those PowerPoint users who want to link multiple slide shows to a single PowerPoint presentation. This can be useful for times when you may have optional information to display. If a member of the audience asks you a specific question, simply hover over the trigger text and reveal the prepared answer. Your audience will be impressed.
First, have the main presentation up and running.
1.You want to select the text which will trigger the hyperlink to the next presentation. When you have the desired text selected, choose Action from the main tab on the PowerPoint ribbon.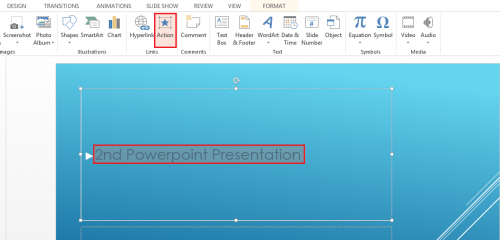 2.From the Action Settings window, select the Mouse Over tab. Then, select Hyperlink to from the Action on mouse over options. Now, expand the drop-down menu, and select Other PowerPoint Presentation….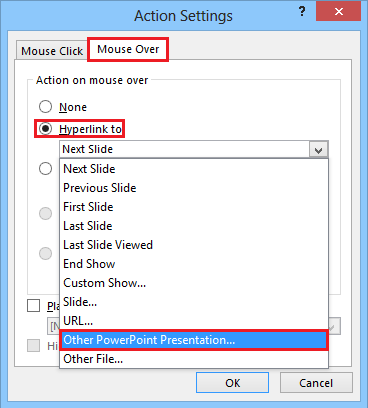 3.Windows Explorer will now come up. From here, you must navigate to the presentation you want to open on with the mouse over hyperlink. Once you have found the presentation, select it and click OK.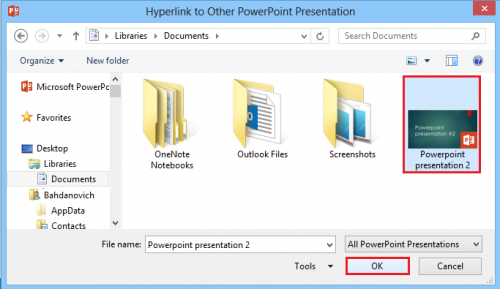 4.Now, all of the slides contained within the second PowerPoint presentation will be listed. Select the Slide title you want to use, and then click OK.

5.You will now be brought back to the Action Settings window where you have to confirm the location of the second slide show. If you are satisfied with the settings, click OK .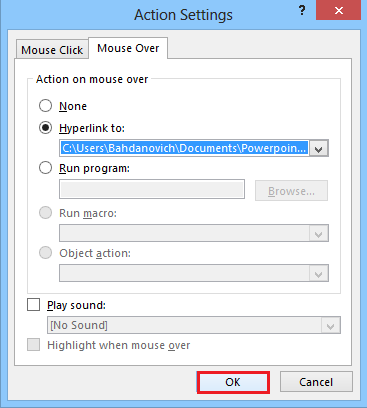 Now, your text will be underlined. This means that there is a hyperlink present. Give it a try, and hover-over with your mouse to test that everything works before you present it to your audience.