Presentations! Presentations can hold a lot of power and impact. A good presentation can take you places. But a bad presentation can make you see your audience yawn and be bored to tears. Office 365 provides the most powerful presentation tool called the powerpoint. You can organize your presentation in the form of slides. This Tech-Recipe is a quick tutorial on adding design to the slides and transitions between the slides.

Many options are present in Powerpoint for designing presentations. You can add or remove slides. You can add designs to slides. A beautiful and interesting slide can keep your audience's attention towards you for a longer time. You can choose a theme and design your slides accordingly. During your presentation when you go from one slide to the other, transitions can cause a great visual impact. You never want to lose the attention of your audience. Transitions and designs can keep your audience focused even when you are not speaking.
 Why Use Design and Transitions:
When you are making a presentation, you can pick from a theme. Selecting one theme/design will set the format of all slides automatically. For a given design, the colors, fonts, and effects can be changed.
The transition effects set the style of each slide separately. Different transition effects are present in office 365. Office 365 offers the timer option for each transition effect. Sound effects can also be set for every transition effect. The most common sound list is also available. You can select the appropriate sound for your transition effect. You can select one transition for the whole presentation and you can also select different transitions for different slides.
To make a memorable and interesting powerpoint presentation you need you to add a little bit of everything. Add designs, transitions, sound effects, press B every now and then to bring back your asleep audience.
Go ahead and use these incredibly useful options for making your presentation attractive. Here is a quick guide on
How to Add Design and Transitions in Office 365 Presentation:
1. Select the Design for your presentation.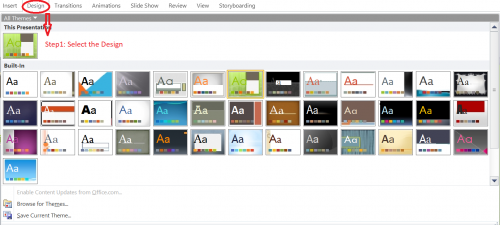 2. Select the colors, fonts, and effects for your presentation.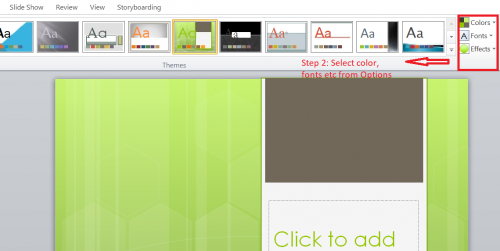 3. Choose the transition for your presentation.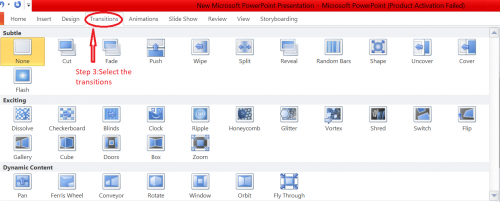 4. Select the sound and duration for every transition.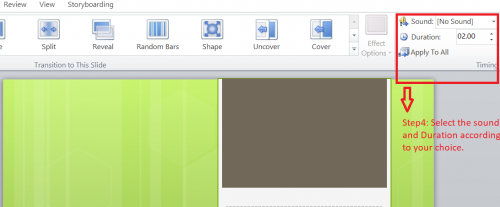 Check out the following Tech-Recipes. Let us know in the comments section about your favorite Tech-Recipe.
How to Add Video to PowerPoint Presentation – Simplest Method
How to Superscript in Powerpoint — add formulae and symbols
PowerPoint: Create a Custom Motion Path
PowerPoint or Word 2013: Create 3-D Text inside Your Presentation or Document