By default, when you create a new Excel workbook, the program will create three new sheets for you. If you usually work on only one sheet, the rest will be unnecessary. Or if you always have to work on a big workbook, then three sheets may be not enough and you have to manually create new sheet. For your convenience, you can change the program's setting to make it include the number of sheets that you usually have to work on right at the start.
The number of sheets you will get when you create a new workbook:

Here is how to change it:
1. Open Microsoft Excel 2010.
2. Click on the File button, and go to Options.

3. In the Excel Options window, go to the General section.
4. On the right-side pane of the window, look for the When creating new workbooks option, and change the Include this many sheets number (default is 3) to your preferred number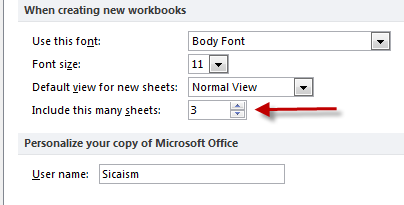 5. When you are done, click OK to save the setting.