The Kindle line has expanded to include not only the basic Kindle, but also the Kindle Touch, Kindle Keyboard and the much publicized Kindle Fire. With so many options available, which one is right for you? Here's a breakdown of each device including how much it will cost and what it can do. Also discussed is the difference between Wi-Fi and Wi-Fi+3G models and what exactly "Special Flipkart Offers" means. Now you can decide which model will meet your needs best.
Things to think about
When deciding which model to purchase for yourself or someone else, there are some questions you need to answer. How is this device going to be used? Is the user going to just read books on it, or are they going to subscribe to magazines and newspapers as well? What kind of connectivity will the user need? Is Wi-Fi only enough or is3G needed as well? Does the user want to use a touch screen or prefer using physical buttons to navigate? Is a physical keyboard necessary or can the user make do with an onscreen keyboard? Do you want a simple ebook reader or are you shopping for an iPad-like tablet?
The Kindle Fire isn't a Kindle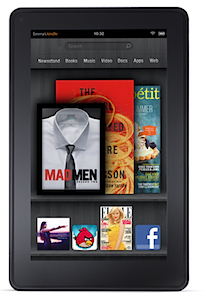 We need to be clear here, the Kindle Fire is not a Kindle reader. The Fire is an iPad clone tablet that runs apps and plays movies. You can read books on it using the Kindle App, but it does not have the exact same functionality of the other Kindles. One such feature that is missing from the Kindle Fire is Text-to-Speech. This allows the device to read English-language content to you so you can listen to your book while you are doing other things. Another big difference is that the other Kindles have an E Ink display that allows easy reading while outdoors. The Fire's display is backlit which will make it difficult to read while you are at the beach or relaxing at the park. Battery life for the other Kindles is expressed in weeks, but the battery life for the Fire is 7 to 8 hours. The Fire is also much more expensive than the other Kindles, it may be a low cost tablet, but it is a very expensive ebook reader. If you only want to use your device strictly for reading, it is more cost effective and rewarding to go with the Kindle, Kindle Touch, or Kindle Keyboard.
Connectivity: Wi-Fi Only vs. Wi-Fi+3G
How are you going to access the web to download your books, magazines, newspapers and other content? If you spend most of your time in town and have easy access to a Wi-Fi signal, you should stick with a Wi-Fi Only device and save yourself the cash. If you frequently travel or don't have easy access to Wi-Fi, then getting a device that has free 3G service may be for you. It will cost you more but you can download from anywhere that the device can pick up a signal. 3G delivery will be much slower that Wi-Fi but not too painful. Only the Kindle Touch and Kindle Keyboard are offered with the choice of getting Wi-Fi Only or Wi-Fi+3G. The other devices, the basic Kindle and the Kindle Fire, are Wi-Fi only.
Do you want your reader with or without ads?
Seems like an easy question to answer, I mean, who wants to put up with ads on their device? You might rethink your answer after you realize that by getting a Kindle, Kindle Touch, or Kindle Keyboard with Special Offers, you will save yourself some money. The ads appear on the device's screensaver and on the bottom of the home screen. They do not display while you enjoy reading your book.
Keyboard Differences
How are you planning to use your ebook reader? Will you only need the keyboard for searching for books or looking up a definition once in a while? Do you plan on taking notes, or will you use the web browser to check the web? Since the basic Kindle, Kindle Touch and Kindle Keyboard all use different keyboard options, you need to decide which is right for you. The basic Kindle is for someone that isn't going to need to use the keyboard on a frequent basis. Its keyboard appears on the screen and you use the 5-way controller to locate and select each letter.
Kindle's keyboard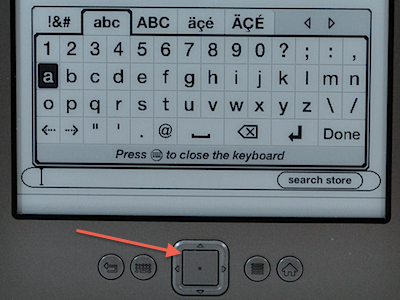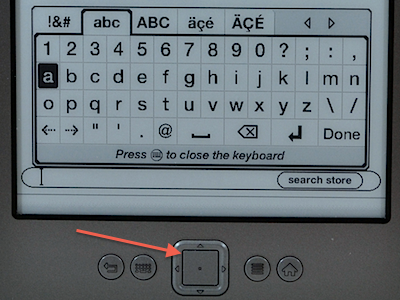 The Kindle Touch also has an onscreen keyboard; however since it uses a touch screen, you can easily select the desired letters and type fairly well. This option isn't for everyone as some people just need to have a physical button to push when they type.
Kindle Touch's keyboard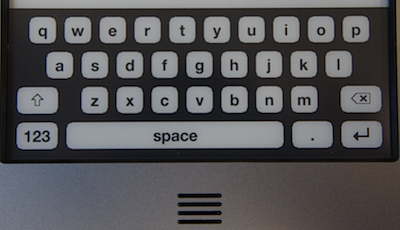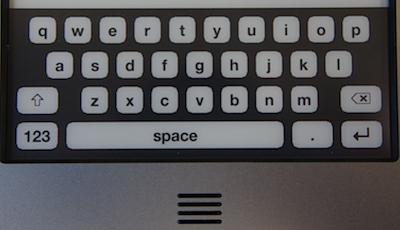 If you need to have a physical keyboard to type, then the Kindle Keyboard was built with you in mind. It has its own keyboard located under the display screen.
Kindle Keyboard's keyboard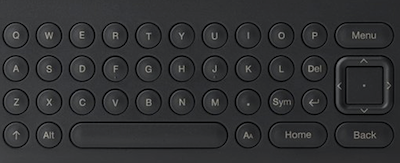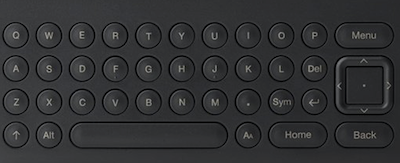 The Kindle Family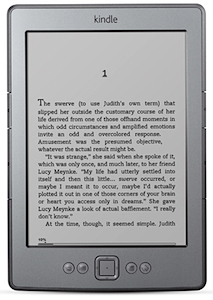 First there is the Kindle, which is the base unit. The device measures 6.5″ x 4.5″ x 0.34″ and weighs in at 5.90 ounces. The screen is a 6″ E Ink Pearl display and the unit uses a 5-way controller and 4 buttons to navigate, has 2GB of internal storage, and relies on Wi-Fi for connecting to the web. The E Ink display makes for easy reading as it can be read in the amount of light it would take to read a real book (including bright sunlight). There is no backlight so reading in very dim or dark environments cannot be done. E Ink replicates the appearance that printed words have on a piece of paper instead of how they are displayed on a computer. The 2GB of internal storage is actually more than enough for people that just want an ebook reader as you can easily hold over 1,000 books on the device. Plus you can store your purchases in Amazon's cloud storage for free. Since it uses Wi-Fi, you will need to have access to a wireless connection to download books. Battery life on the Kindle is 3 to 4 weeks, depending on wireless usage. The price on the base unit depends on whether you want to tolerate your device displaying special offers and sponsored screensavers when you are not reading. If you can take the ads, it will cost you $79, without the ads will be $109.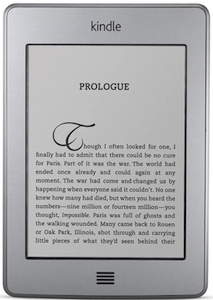 Next up is the Kindle Touch, the touch screen version of the popular ebook reader. Dimensions for this device are a tiny bit bigger than those of the base unit, 6.8″ x 4.7″ x 0.40″ and weighs 7.5 ounces (Wi-Fi version) and 7.8 ounces (3G version). Like the base Kindle, the Kindle Touch has a 6″ E Ink display, uses the touch screen for navigation, page turning, and keyboard. This means that you will use the touch screen for everything, so if you are a button person, you may not want this option. It is offered in a Wi-Fi only version and a Wi-Fi/3G version (for $50 more). Internal storage on the Kindle Touch is 4GB. The price for this device depends on which connectivity option you take and whether you want to be ad free or not. Prices range from the $99 Wi-Fi only with Special Offers version to the $149 Wi-Fi+3G version without Special Offers.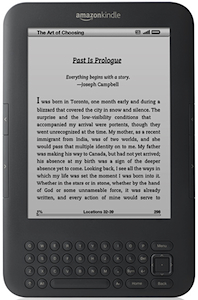 The Kindle Keyboard is what its name implies, a Kindle with a physical keyboard. The device measures 7.5″ x 4.8″ x 0.34″ and weighs 8.5 ounces (Wi-Fi version) and 8.7 ounces (Wi-Fi+3G version). Just like the other two models, the Kindle Keyboard has a 6″ E Ink Pearl display. It has battery life similar to the Kindle Touch and has 4GB of internal storage. The device has its own physical keyboard located beneath the display, along with a 5-way controller. This model is definitely for those that require physical buttons instead of those on a touchscreen. Another thing it has in common with the Kindle Touch is that the price for this device depends on which connectivity option you take and whether you want to be ad free or not. Prices range is from the $139 to $189.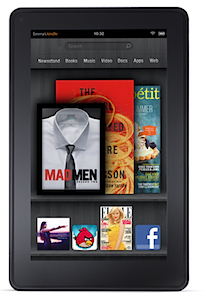 The Kindle Fire is a tablet with a Full Color 7″ Multi-touch Display and connects to the web via Wi-Fi. The tablet is fully integrated with Amazon's cloud services. The operating system is Android 2.3 with a customized user interface tacked on. All Google apps and services have been removed from the OS, so that everything is reliant on Amazon's services. The tablet has 8GB of internal storage, which is rather small for a tablet, however it comes with free cloud storage of all Amazon content. Like other Android tablets, you can run apps and games, watch movies, listen to music, surf the web, etc. The tablet's price comes in at $199 which is a good price for what you are getting. (We'll be reviewing the Kindle Fire in a future article).
Conclusion
If you are sure you want to buy one of the members of the Kindle family for yourself or someone else, make sure you know what you plan on using the device for and what the user's preferences are. If you want a multimedia tablet, get the Kindle Fire. If you want an ebook reader, you need to figure out what the driving factors are for your purchase. If the user is not needing to use the keyboard much and wants Wi-Fi, then the Kindle is the one to get. If the user needs to use the free 3G service, then you'll need to choose between the Kindle Touch or Kindle Keyboard. If the user does not mind touch screens, then they will do fine with the Kindle Touch. If you have those physical buttons, you will want to get the Kindle Keyboard. The final decision you have to make is whether the ads are going to be a problem. If not, save the money and go with the Special Amazon Offers version. If you refuse all ads, pay the extra money and go ad free.
Good luck with your Kindle purchase. Let us know if you have any issues or questions.