When you save a Word document or Excel Spreadsheet on OneDrive, there is a delay before that data gets uploaded from your PC. However, Micrcosoft hides the details of this from the PC user by making it appear as if the changes you have saved have been uploaded. This tutorial explains how this occurs and how to fix the potential errors it causes.
This delay causes a lack of clarity which can lead to lost work or the need to reconcile two documents in the following cases:
Your documents cannot be uploaded to the OneDrive for a long time because your computer is offline with pending changes.
Documents on the Office Upload center on the PC have errors that require your attention.
Another person is working on the same document and your changes have not been uploaded.
You work on the same document from the Microsoft Office app on your tablet or smartphone that you are also editing from your PC.
Someone is editing a document online and you have pending changes offline.
Word does a good job of handling this in most situations, but those items listed above are the ones that I have experienced.
When you have these problems with Word, it gives you the chance to edit the document to combine changes made from two different programs or computers line by line. Excel does not even try to reconcile two sets of changes: it will simply tell you that it cannot save your changes in the case of certain sync errors.
How to Use the Microsoft Office Upload Center
The Microsoft Office Upload Center is the way to monitor these uploads on the PC.  Unfortunately, the Microsoft Office app has no such tool  The ultimate place to check that you changes are online and up-to-date is to check OneDrive online.
1.To check the upload status on a PC, click the orange icon highlighted below on the PC's system tray.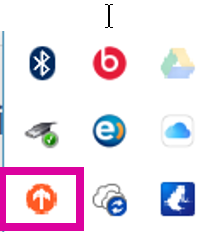 2.I cannot take a picture of the screen that pops up when you select that, but when you see it, select Open Upload Center.
Here is the Upload Center.  If any uploads are pending, then they will be queued up here.  Click on Click to View Recently Uploaded Files if you want proof that your changes are online.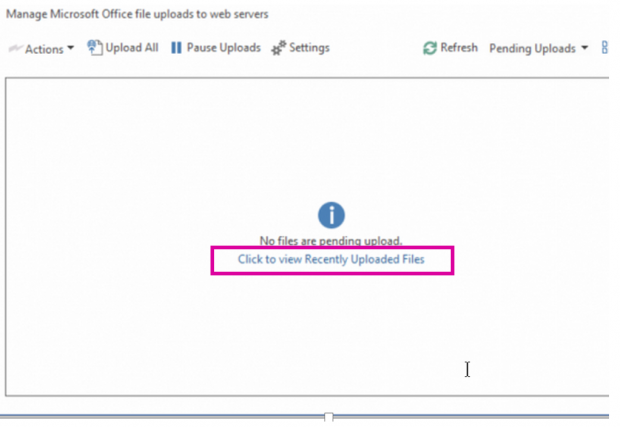 3.Here is how Windows looks if, for instance, you just powered on your PC, and there are still files to upload from the last time you were working.

4.Here you can see an example where there is one file that is paused.  When Microsoft tells you that the changes are in "cache," this means your document changes are still in local files on your PC and need to be uploaded.

5.Here are the options given when you have one file with a particular error that requires you to make a decision. You can either discard the changes or save the document with a new name.