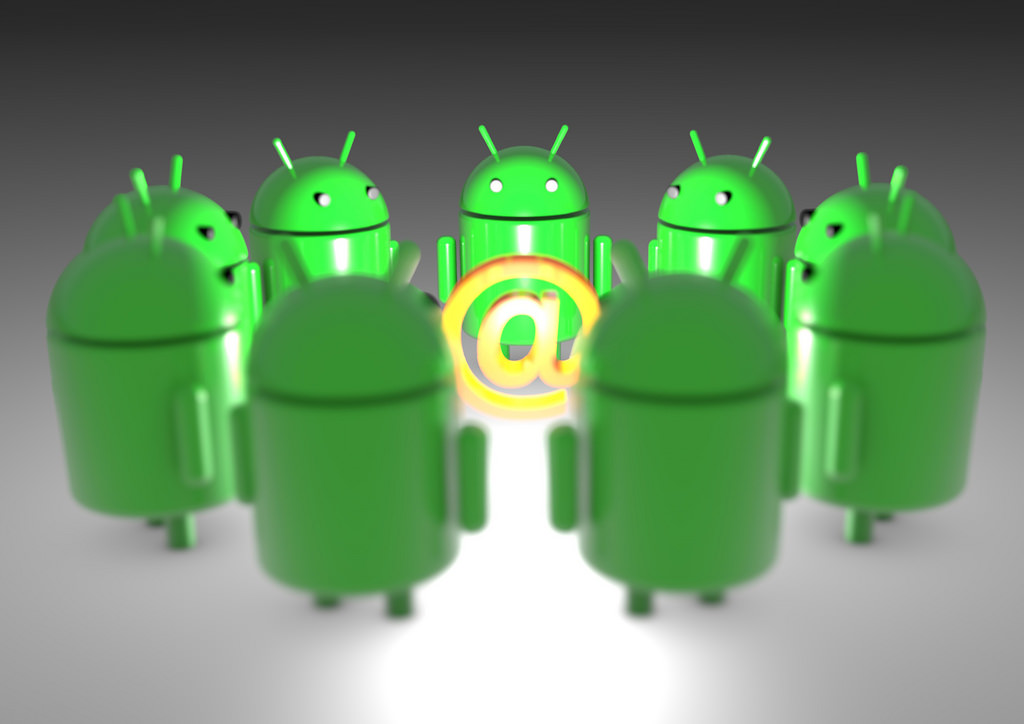 How do I change the name of my phone? I get it! We all want our phones to have cool names. It's no surprise; We want to separate ourselves from the herd. We want our phones to mimic the features of living breathing human beings. Giving names, somehow creates a sentimental connection between the user and a smartphone. Instead of saying that you have an Android device, you can actually call your phone by name, which is so much cooler. "Emily, Could you hand me Darth Vader?" Okay, you don't have to name your phone that verbatim, but I mean, if Joey — from the highly popular sitcom FRIENDS — named his TV Stevie, why can't we? Who's stopping us?
In this tutorial, I'm going to show you how to change the name of your phone with ease.
Step-By-Step: How Do I Change the Name of My Phone? (With Visual Instructions)
Note: This tutorial has been crafted, using a Huwaei Mate, but the steps are similar in other Android devices.
1. Open Settings.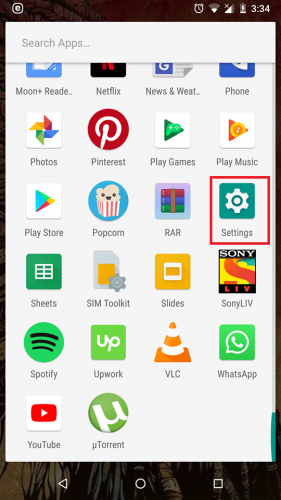 2. Go to About Phone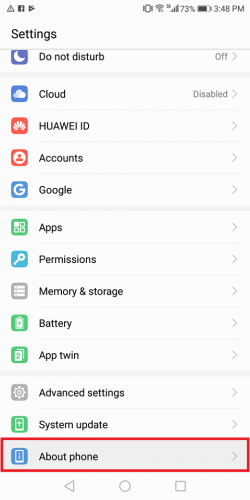 3.  Tap Device Name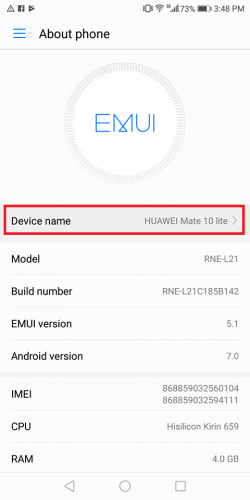 4. Edit Device Name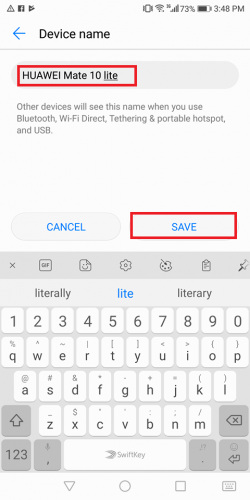 5. Select Save
See, hassle free and job done in no time at all! However, keep in mind that if you're using a Google Nexus 6P, you won't have this option available, which is a bummer.
Step-By-Step: How to Change Bluetooth Name of Android Device(With Visual Isntructions)
Some people are interested in changing the Bluetooth name of their devices. I get their reasons behind this too. Whenever we share data via bluetooth, we want our phones to come out as badass or gentile, depending if you rename your device to Don Corleone or Nacho Libre. Okay I'll stop the movie references and start with the tutorial.
1. Swipe down from the top and tap the Bluetooth Icon.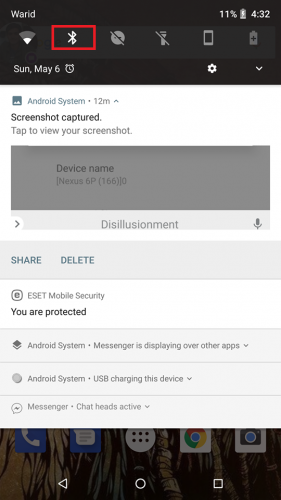 2. Turn Bluetooth On.
3. Select Device Name.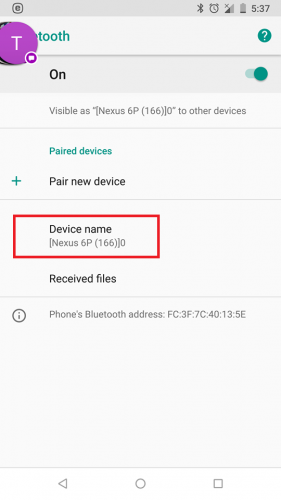 4.  Select Rename after renaming the device.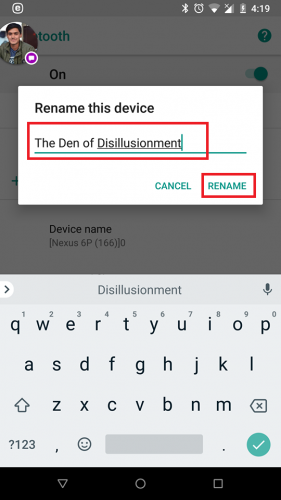 That's it! You're done. Now, every time you share media, files, or apps over Bluetooth, your self-appointed name will show up.
Step-By-Step: Change the Name of your WiFi on Android(With Visual Instructions)
Again, similar instructions to the bluetooth tutorial need to be followed here. Here's how it's done.
1. Swipe Downward on your home screen and tap the WiFi icon.
2. Tap WiFi preferences.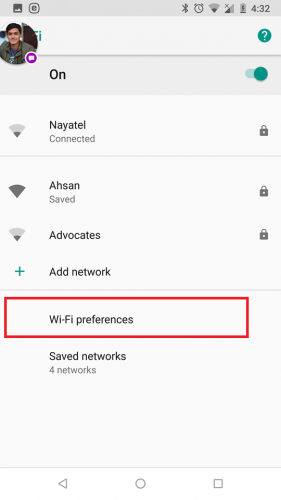 3. Go to Advanced>WifiDirect.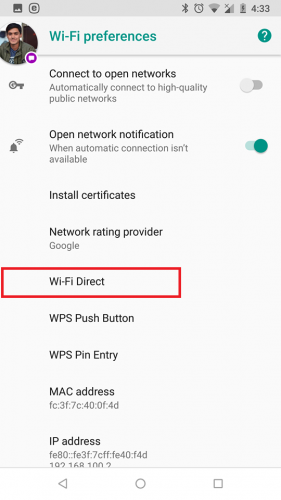 4. Select Rename Device on the top.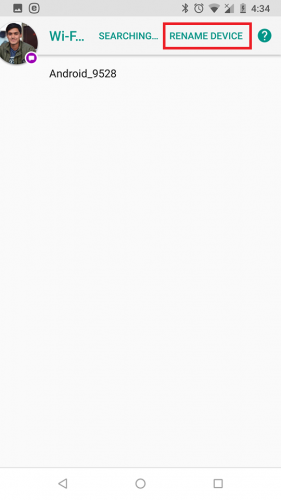 5. Edit Name and Tap OK.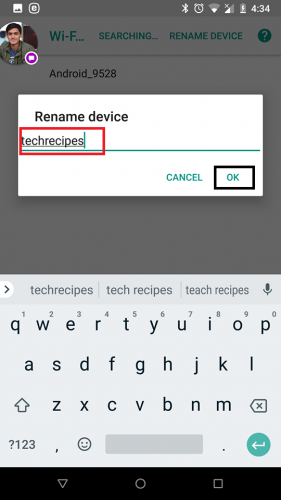 Need further guidance? Check out the FAQ!
Frequently Asked Questions
Are there any hazards of changing the device name?
None Whatsoever! On the contrary, changing name makes your device easily identifiable.
Can I change my names in games on my Android device?
Depends on what game you're playing. You can access the settings of that games to see whether it allows name changes or not.
How Do I change the Name of my phone if it's a Google Nexus 6p?
Unfortunately, in the Nexus series, you're unable to change the generic names of your device. Google still has removed this features for God knows what reasons. Maybe they thought it was useless and didn't contribute much i terms of user experience but whatever the reasons were, it's gone. You can however still change your bluetooth and wifi name to compensate for it.
So, there it is, a comprehensive and much needed article on name changes. However, if you still have some pressing questions regarding this tutorial, leave them in the comments section below. As soon as I find time, I'll tend to them and make everything crystal clear. That's what I'm here for to begin with!
Also, check out these related tech-recipes at your discretion.