How to Unblock Someone on Instagram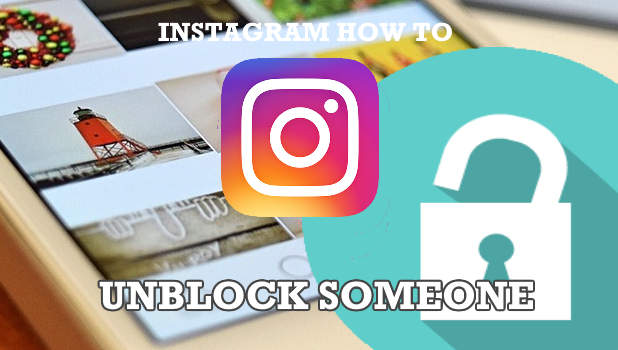 If you blocked someone on Instagram and you are now clueless on how to reverse the action, then this article is for you. Here, we will discuss the two different ways to unblock someone on Instagram.
Have you blocked someone out of sheer impulse and now regretted that you have no clue of unblocking them? Whether you have given your relationship a second chance, or have patched up the issue you had with a friend, unblocking people from Instagram will recreate that bridge of connection between you and the people who matter to you on social media. This article will guide you how to unblock someone on Instagram.
Method 1: Unblock Someone on Instagram from the Blocked Users Tab
The first method is by looking at your Blocked Users tab. Here's how.
1.Open your Instagram app.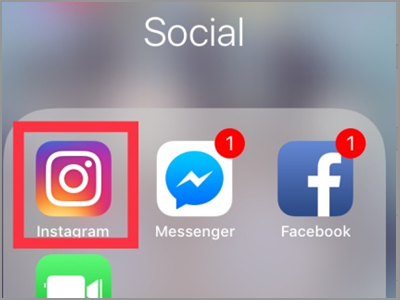 2.Tap the Log In button under your username.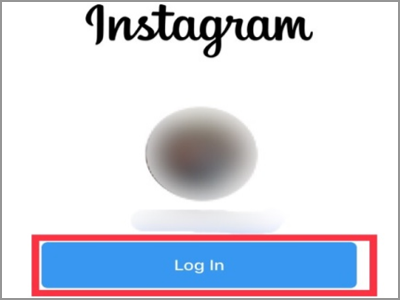 3.Tap the person icon in the lower right corner of your screen.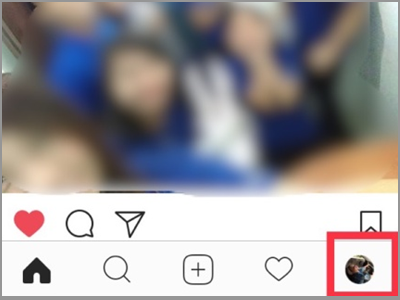 4.Tap the cog wheel icon. This is the Settings button.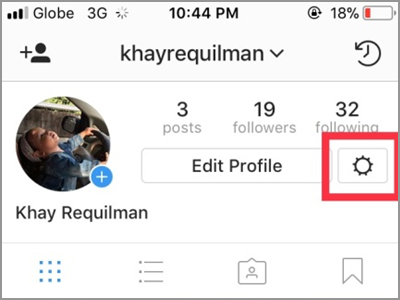 5. Scroll down. Under the Accounts option, tap the Blocked Users. It comes after the Two-Factor Authentication tab.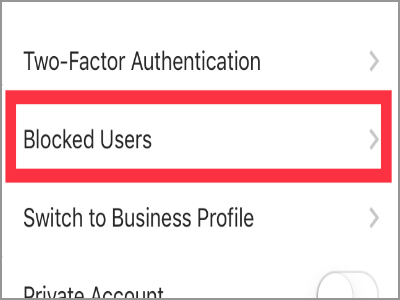 6. All accounts that you blocked are listed here. Choose the person you want to unblock by tapping his username.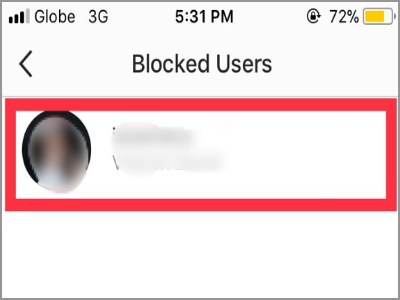 7. You will be directed to the person's profile. Tap the three dots found on the right side of their username.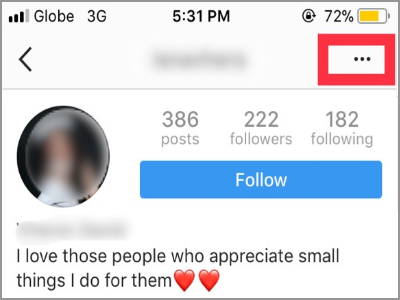 8. The Unblock button will appear together with other options. Tap the Unblock button.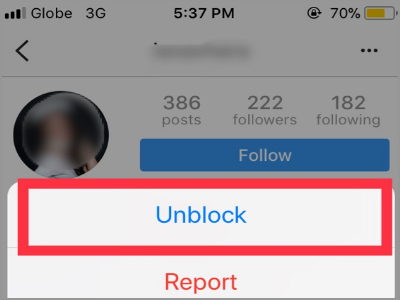 9. Instagram will confirm your action. Also, in a simple text, it will inform you what will happen if you unblock someone. Tap Unblock to proceed.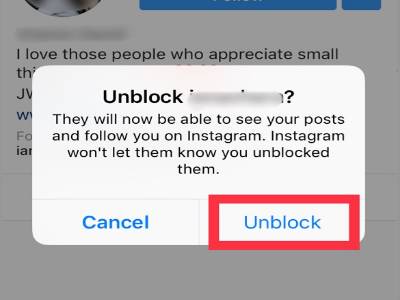 10. A successful Unblocked message will appear to officially inform you that the unblocking is successful.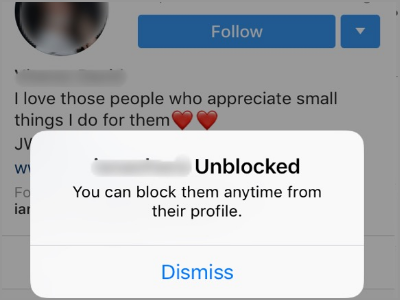 Method 2: Unblock Someone on Instagram by Searching
The second method will be easy if you know the username of the person you want to unblock. This is with the help of search bar.
1. On your Instagram Home screen, tap the Search icon. It is the icon next to your Home button on the bottom part of your screen.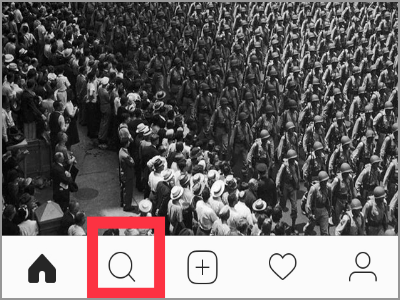 2. The Search box will now be available. Type in the name of the person you are looking.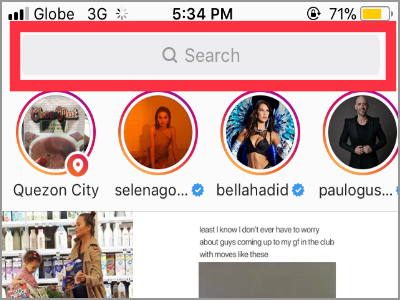 3. As you start typing, the Instagram will give you the users matching with that information. Tap the person you want to unblock to open his profile account.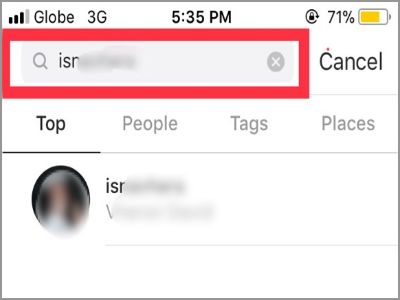 4. To see the Unblock option, tap the three dotted lines besides the person's username.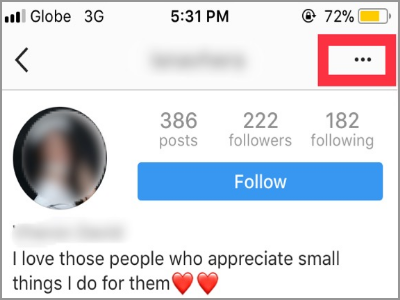 5. Tap the Unblock tab.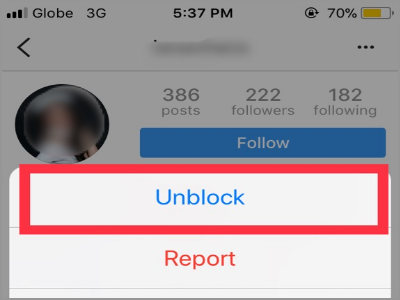 6. To proceed, confirm by tapping the Unblock button.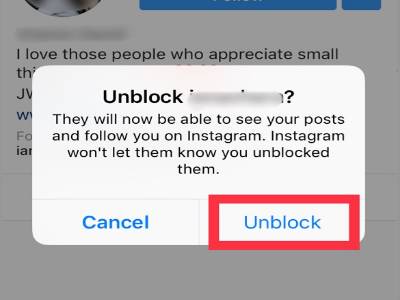 7. The notification of a successful unblocking will appear to let you know that the action is completed.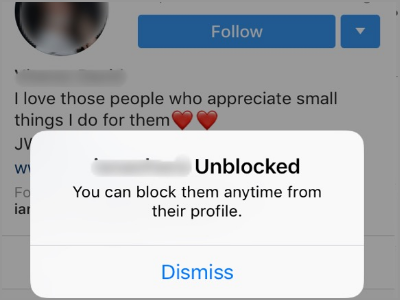 Frequently Asked Questions
Q: I've already Unblock my friend on Instagram. But I can't see his post and story on my feed.
A: When you unblock a person, it doesn't mean that you are automatically connected. You need to be his follower first or he must follow you. Unblocking the person will result in your existence on his Instagram account again.
Q: If I unintentionally unblocked a wrong person, can I still block him?
A: As stated on the verification notice when you unblock a person, you can block them again anytime you want.
Q: The two methods didn't work on my part. What should I do?
A: There are several reasons why it won't work for you. First, if the person you tried to unblock also happened to block you. If that's the case, I can recommend you to use the private/direct message on Instagram. Create a new message and mention that person. Then tap his highlighted profile name. From there, you can unblock him. Please take note that this will not also apply if the person has a new and different username. Second, try the methods using another device. There are times that other functions work on Android, but not in IOS. Sometimes it works on the mobile app, but not on the web.
You just learned how to unblock someone on Instagram. We hoped that this article has helped you patch up your difference and rebuild that bridge of connection that was burned when you blocked someone from the social site. Do you have questions about any of the steps above? Do you think it is good to unblock people whom you previously blocked? Let us know in the comments.
Serious in keeping your online privacy secure? Here are related articles to keep your online identity safe:
How to Ensure Security When Shopping Online
Facebook: How to Enable Secure Browsing (SSL Encryption)
How to Secure Your Instagram Account
Google: Add Extra Security to Google Accounts with 2-Step Verification
How to Enable Two-Factor Authentication on Facebook
How to Secure Your Yahoo Account
The Conversation
Follow the reactions below and share your own thoughts.