Ever since it's release in 2004, Facebook has been the most commonly used social media platform. Two years later, in 2006 Facebook had spread all over the globe and man, woman or child that is over 13 years old and has an email address was able to join Facebook. Over the years it had several major overhauls which include visual as well as fictional changes and additions. The once simple social media platform where you could add a profile picture and write status updates now enables you to add videos, create galleries, create polls, chat with your friends, stream live etc. Also, you have the ability to join groups.
This is similar to forum postings where you can have a discussion with anyone that have posted something. there are millions of groups for literally everything. In the recent years one of the features that Facebook introduced are the events. you have the ability to see upcoming events, get invited to an event, see which friends attend events and so much more. And Facebook isn't  only about your friends and relatives. Every one of us has a favorite super hero, or a favorite singer or actor , writer and anything you can think of. All of them are on Facebook and all of them have their own page where they post updates and all kind of information for you to read.
Even though Facebook has over 2 billion active users, this doesn't mean that everyone's on Facebook. If you are one of the other 5 billion that don't have an account, below are the steps required to create one and start connecting with long lost friends or relatives, or meet new ones.
How to Create a Facebook Account
1. Go to Facebook.
2. Once the page loads you will see the image below. On the top blue bar you have the login section, on the left you have some of the features that Facebook can provide and on the right side you have a form that you will need to fill in order to create the account. It is recommended to use your own personal details. For this step you will need to enter your first and last name, mobile number of a mobile number, think of a password that you would like to use for your account, date of birth and gender. When you fill the form, you will need to click on "Create Account"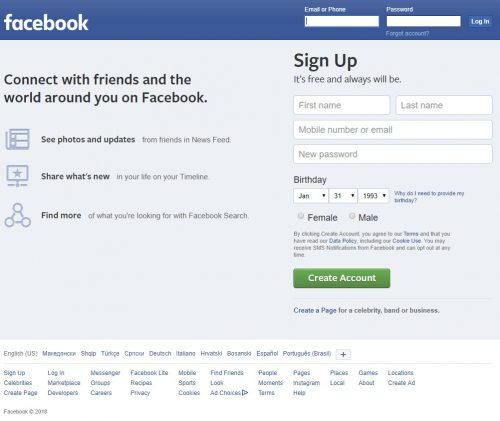 3. On the next page you will need to select between confirming your email address, and with that your identity, or updating it. If you decide to update it, you will need to enter a new email address or mobile number.
4. If you are using a gmail account you might need to enter the login credential to your gmail account to connect and verify your identity. If you are using another email service you might be required to manually verify. In order to do that you will need to log in to your email and open the email that you have received from Facebook. within there will be a confirmation link which you will need to click so that you can verify your Facebook account.
5. Once the verification process is completed you will be forwarded to your Facebook account where you can update your profile, add friends, chat with them, post statuses and so much more.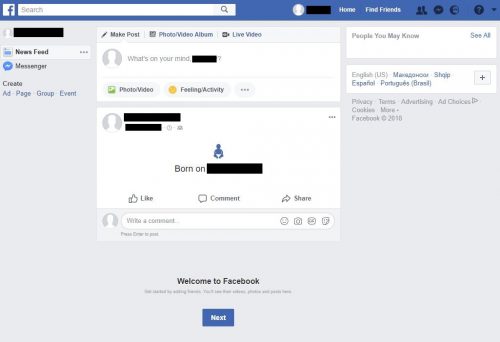 Frequently Asked Questions and Answers
Q: How much do I need to pay?
A: Facebook has been and is free to use. This means that you will be able to create the account free of charge. Facebook has certain third party applications and games within the service that might require you to enter your payment information if you would like to purchase anything from them.
Q: How many account can I create?
A: Facebook's policy is to use only one account per person. This means that Facebook is trying to keep only one account per person. If have created multiple accounts by accident you will be able to combine them into one account for you to use.
Q: I created a Facebook account, but I keep getting invitations to sign up for Facebook?
A: This means that the friends that send you Facebook invitations are doing that using a different email address than the one associated with your current Facebook account. If you do not want to continue receiving those emails, you can click on the "unsubscribe" link on the bottom of the email invitation that you get.