Instagram has been a staple social media website for fitness enthusiasts, hot divas and celebrities from all walks of life for quite sometime now. Business have provisioned their resources to advertise on Instagram and have benefited a lot. However, there are some essential features of Instagram that people still aren't aware of. Their know-how is fundamental in maintaining a professional presence on the social media giant. I'm going to throw light on one of these important features in this article. 
Regulating a large number of photos is an arduous struggle on Instagram. Many a times, we are tagged in photos that we don't wish to include in our profile. We certainly don't want someone to go through our profile and find an ugly picture of us in the "photos of you" section. I mean, come on, would you want someone who you have a monster crush on to see a picture of you, face drenched in instant noodles? Of course not!
Don't worry! Like on Facebook, you are given the freedom to Untag a picture on Instagram. The feature comes in especially handy for businesses and Instagram models who don't want unprofessional photos to show on their Instagram profile. Yeah, that's right! you reserve the right to permit selective pictures on your profile.
The process to untag a picture on Instagram is fairly simple and my guide will make it crystal clear for you.
All you need for this tutorial is a smartphone, the Instagram App and an Instagram account. Okay, so let's start and get this done with.
How to Untag a Picture on Instagram
1.Go to the Instagram App on your Smartphone and open it. I'm using an Android Smartphone.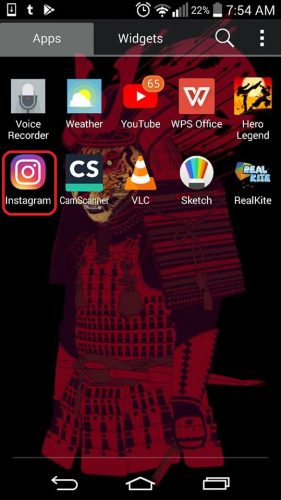 2. After opening the App, Go to your profile homepage and click the photo pane shown in the below picture. It is right next to the horizontal line pane.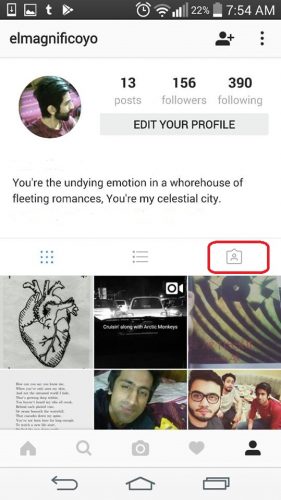 3. Another window with the title " Photos of You" will open. Click the picture you want to untag yourself from. I've selected the Molten Lava cake picture for untagging.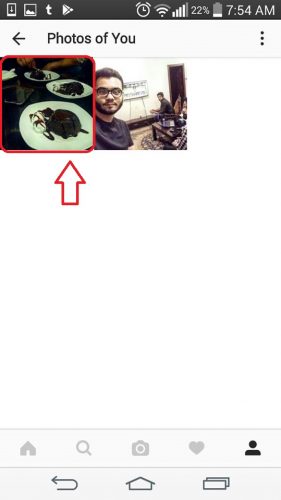 4. When the picture opens, locate three horizontal dots on its top right corner. Click them.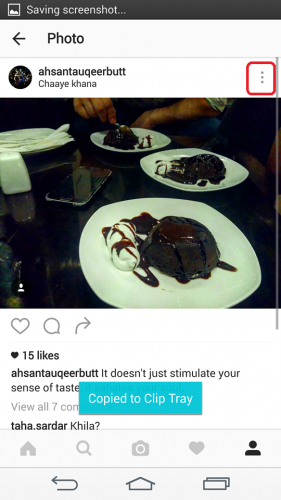 5.Three option will appear in front of you after clicking it. Select the one that says "Photo options".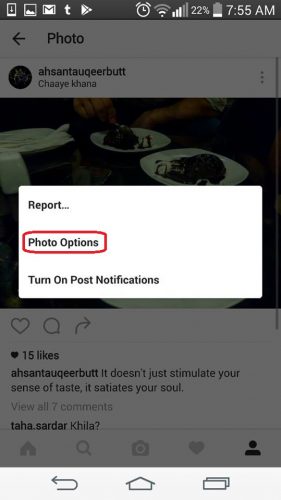 6. Now select the Remove Tag option.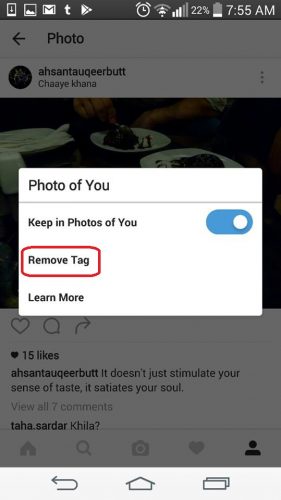 7. A confirmation message will appear on your screen. Select Yes, I'm sure.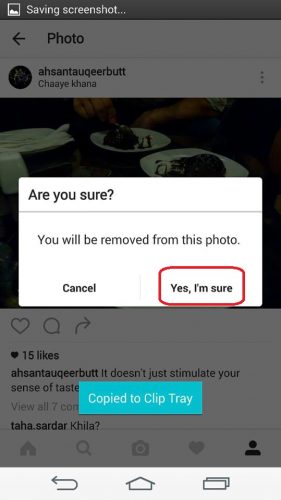 And that's how simple it is to untag a post on Instagram. You can repeat the process for as many pictures as you want. No longer do you have the need to deal with extravagant or unwanted photos. You're in the clear!
If you have any further questions please check the FAQ.
Frequently Asked questions
How Do I tag others in my photos?
While you upload your picture on Instagram, you will be given the option to tag others in it. To do jsut that, follow these simple instructions.
After uploading the photo, on the top right corner, click Tag people from the share screen. Tap on the person in the photo you wish to tag.  Enter the first few letters of their name and their profile will pop up in the drop down menu. Select their name to tag them.
Can I tag people in photos that are not mine, like on Facebook?
Unfortunately, you are not given this luxury on Instagram. To enjoy tagging rights, the photo must be your property.
Who can see my tagged photos?
Depends on the privacy of your photo. If the privacy is set to public, then anyone who comes across the picture will be able to see it. If someone likes or comments on the photo, you will get a notification. The tagged user will only get the notification if he or she is following you.
Can others tag me in their photos?
Yes! They can, as long as you haven't blocked them on Instagram.
Please check other tutorials I've written to get assistance on other tech-related topics. Leave any comments if you you are still confused about something. I'll be be glad to help 🙂