Do you want to email an interesting article to a co-worker or post a cool infographic to your Facebook page? Using Microsoft Edge's integrated sharing feature, you can share through a variety of mediums without leaving the page you are viewing. Many websites already have buttons to share their content on popular social media sites, but the built-in Edge sharing option gives you control over your sharing options and will always be available, regardless of whether or not the website was designed for sharing. This functionality can be achieved in Chrome, Firefox, and Safari by installing a series of browser extensions, but Edge's approach is simpler and cleaner.
1.Press the Share icon on the top right of the web browser. It looks like three connected circles.

2.This launches the Windows 10 system Share Panel on the right of the screen. Under the word "Share" is the name of the webpage you are currently viewing. If you click the down arrow next to the webpage name, you will have the option to take a screenshot of the page instead of sharing the page in its entirety.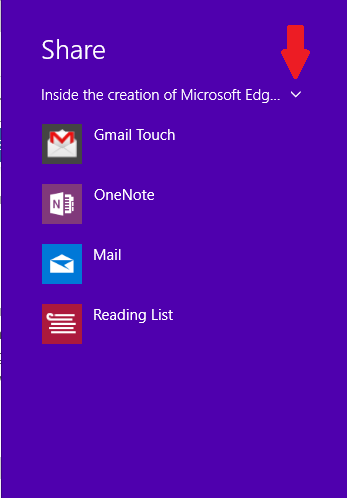 3.A list of the sharing apps you have downloaded appears next. If you wish to add more share options, such as Facebook or Twitter, go to the Windows Store, and download the corresponding app. You can access the store from the icon in your taskbar (as shown below) or from the Start menu.

4.Once you are in the store, search for the app you want to add, or browse through the available listings. Apps that can be added as share options will have the Share icon under their names as circled below. Click Install, and the app will automatically be added to your sharing options.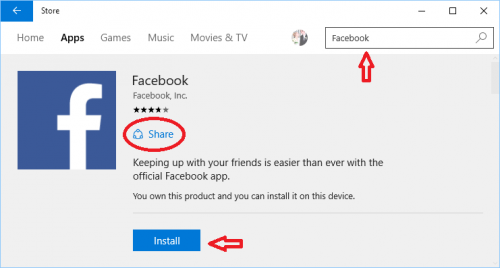 5.Once you click on the app you want to use to share in the Share Panel, the panel will expand and walk you through how to share using that app. You do not have to fully launch the app. It is tied in through Edge.
Happy Sharing!