Though Facebook is the most popular medium for inviting friends to social events, parties, or public meetings, you can use Google+, the fastest growing social network, to do the same with more features.
Sending out invitations on Google+ is quick and easy.
1. Log on to your Google+ account, and click on Event.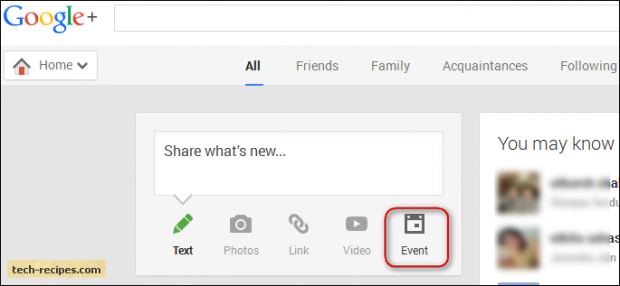 2. A new pop-up window named Create event layout appears. Add essential details such as the event title, event date, start time, and end time. You can also add the location and details, which are optional.
4. Invite friends using their email addresses, or you can directly include circles of friends, as I did in the example below, inviting school, college and family members using different circles I already have.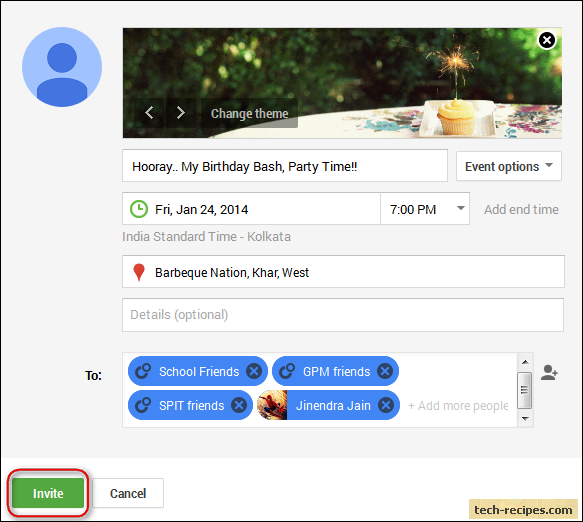 5. Additionally, unlike Facebook, you can add an Events theme image by clicking on the top banner of the Events window. Click on select theme, and you will find various theme banners for birthdays, weddings and more.
6. Most importantly, you can control who can see the list of invited guests or friends can invite their friends. Select hide guest list, using Event Options.
7. You can see the details of the event you have planned in the event tab in the left pane.
How is your first impression of Google+ Events? If you have any thoughts on Facebook Events vs Google+ Events, please share them with us through the comments field.