If you use your Google profile to discuss products, people within your circles can see your reviews when searching. Unless you disable this, Google will use your profile image and name as a part of their advertising service.
By default your profile will be displayed when your friend searches for a product. If you see your profile under a product like the above example, you are participate in the Shared Endorsements program by Google. This program uses your Google Plus activity and product reviews to give recommendations to your friends in Google's search result.
Please note that preventing Google from using your information in ads does not stop it from displaying your profile in other shared endorsements. In the pictures above, the one on the right is an actual ad, while the one on the left is linked to your activity in Google Plus. To stop your profile from showing up on this type of endorsement, you will need to limit the visibility or delete that activity on Google Plus.
If you are under 18, your profile will not be used in ads, but you can still see endorsements by others.
Here is how to opt out of the Shared Endorsements program:
1. First, log in to your Google plus account.
2. Move your mouse over the Home button at the top left of the page to expand the menu, then choose Settings from the list.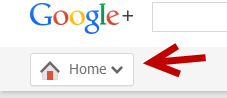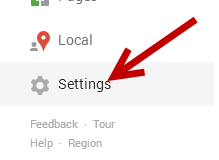 3. In the Settings page, find the Shared Endorsements option, and click the Edit link.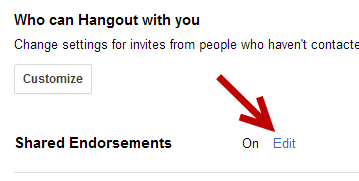 4. In the Shared Endorsements page, scroll down to the bottom of the page, uncheck the Base upon my activity, Google may show my name and profile photo in shared endorsements that appear in ads option, and click Save.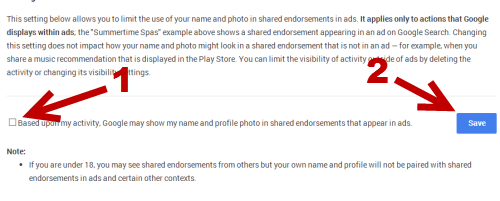 5. Finally, click Continue when you see the prompt message.