Google's search includes personalized posts in your search results. This means that it will include posts and images by people that are in your Circles in Google+. While you may enjoy reading their posts, their information may not be useful to your searches. Here's how to keep these posts from cluttering up your search results.
Google assumes that your Google+ circle will contain information that will help your search results. For many of us, through, this additional information just clutters and is a distraction when searching. I am sure Google enjoys the additional exposure for its fledgling service, but I would rather my searches be Google+ free.
Google+ Results Pollute and Dilute
The theory that content your friends share is more valuable than other content does not hold up in practice. If you want your friend's opinion, typically you would ask for it. The vital strength of "googing" something is that those search results have always been the most accurate and relevant. Having Google+ searches pollutes and dilutes the results of beautiful google algorithms with the information from your friends.
The push to the social is pulling Google away from the simplicity that attracted people in the first place. When people need information they are typically looking for raw data and information from the Internet. If my friends knew the answer, I probably would not be searching in the first place.
Disabling Google+ Posts
1. Go to Google.
2. Go to the upper-right corner of the page and click the Options icon (the Gear icon next to your profile image). Select Search settings from the dropdown menu.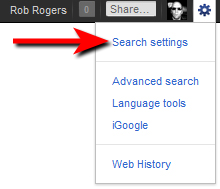 3. Scroll down to Personal Results.
4. Select the Do not use personal results radio button.

5. Click Save.