Gmail, also known as Google mail is a free advertising-supported email service developed by Google and Gmail has proven to be one of the best mailing services over the years, this can be attributed to its amazing features, wonderful services, and its swift interface. Gmail records about 1 billion+ monthly users, 75% of Gmail users were recorded from mobile devices, thanks to the Gmail mobile app. Gmail has modified its features and design so as to provide better service to users, Gmail has come up with a new design. The new Gmail look is really cool but may not be very user-friendly to some persons, you may have thought of a way to get back your Gmail's old look, well, I am glad to tell you that your search is over, I will show you how to revert to old Gmail format.
What is Gmail format?
In my own words, I would simply say the Gmail format is the Gmail design (User interface). Gmail has come up with a new design and this refreshed design will appear for Gmail users on the web, bringing it closer to the company's tweaks for Gmail on mobile devices.
The Gmail new design includes some subtle elements of Google's material design and a number of good new features that were originally not provided in the previous design.
Google is implementing smart replies for Gmail on the web, the same feature from Gmail mobile that provides suggestions to reply emails quickly, a new snooze feature that lets you temporarily remove emails from your inbox until a certain time, so you can avoid certain emails until you're ready to reply. Snooze and Smart Reply are currently part of Google's Inbox for Gmail app, these features will now appear on the Gmail web.
Now that you have a better understanding of Gmail design, are you still willing to revert to old Gmail format?
Here is how to, please read and follow carefully
How to Revert to Old Gmail Format
1. Login Gmail web with your browser.
2. Click on the Gear-shaped icon at the top right of your Gmail.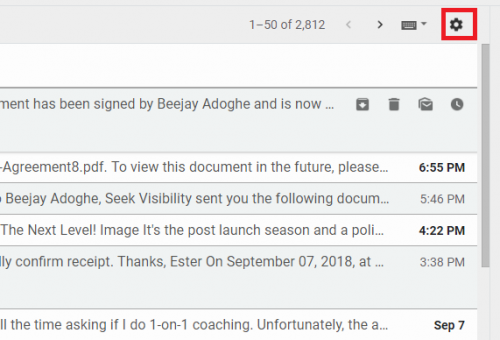 3. Click on "go back to classic Gmail".
Very easy and accessible. There are also ways you can customize your design instead of reverting back to the classic Gmail for example, click the three-lined Menu button at the upper-left corner of the Gmail window to show or hide the text labels next to the icons on the left side of the window. The new Gmail offers 3 different styles which are the Default, Comfortable and Compact, you can use any of these 3 to change the way your messages appear in the inbox list as they all have previews above the option to show you what it would look it.
You may also want to try out the Display Density, and change the theme from the menu under the gear settings icon, that is if you are not satisfied with the display and you want to customize it.
Note: Before you revert to old Gmail format you may be asked to provide Gmail your reason for wanting to revert but this section is purely not compulsory, if really do have a genuine reason for not liking the refreshed version, you can provide feedback to Gmail to enable them to improve their services.
Frequently Asked Questions and Answers
Q: How do I go back to the new Gmail design if I have reverted to old Gmail format?
A: Follow the same steps and click on try the new Gmail.