Samsung phones have undoubtedly hit different major store shelves all around the world and Samsung has posed to be one of the best smart android phones because of its sweet and unique display (User interface) and its amazing features. Talking about its amazing features like; water-resistant, sharp camera quality, good performance chipset, and its very useful sensors. 
Samsung phones are usually very reliable and sleekly designed. Though their smart devices tend to be highly priced, you'll certainly get value for your money. An exception of the fact that lots of users complain about battery life, it's experience is simply desirable. 
What is motion photo?
A motion photo can be described as a series of still images that can create an illusion of moving images in rapid succession.
Samsung official site describes it as a feature that puts a little context into the making of the shot by letting you capture a few seconds of action leading up to when the shutter button is released. It even allows you to pinpoint which moment you want to preserve as the still frame. Basically, not all Samsung mobile phones houses this feature, Samsung has embedded this feature only in their smart high-end devices, I am talking about the note8, s8, s8+, s7, s7edge.
If you are a user of any of the Samsung phones I mentioned and do not know how to enable motion photo on Samsung, then this article is for you, and for other Samsung smartphone users that do not even know that this feature exists on their mobile. You are very welcome to learn and maximize the motion photo feature.
Without further delay, here is how to enable motion photo on Samsung, please read and follow carefully.
How to Enable Motion Photo on Samsung
1. Launch your Samsung camera.
2. Tap on settings, located at the top right of your screen.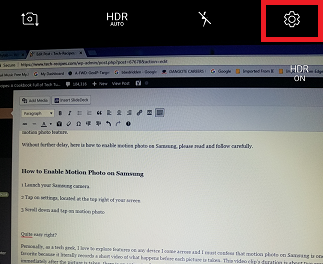 3. Scroll down and tap on motion photo.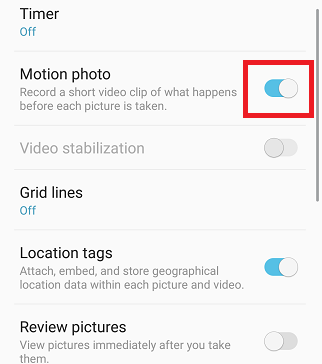 Quite easy right?
Personally, as a tech geek, I love to explore features on any device I come across and I must confess that motion photo on Samsung is one of my favorite because it literally records a short video of what happens before each picture is taken. This video clip's duration is about two seconds, immediately after the picture is taken, there is an option to play motion photo.
Like I earlier said, not all Samsung devices houses this feature, so if you are not using any of the Samsung models I mentioned, then you may not be privileged to enjoy this amazing feature.
Thanks for coming through, I hope this article has been very helpful.
Frequently Asked Questions and Answers
Q: Can I share the motion photo just the way it appears on my phone?
A: Yes, you can share it as a video file such that it now appears in GIF format.
Q: Can I play motion photo when I view the picture from my gallery?
A: Yes, just the same way it appears as photo preview when taken, that's the same way it will appear in your gallery.
Q: I can't find the motion photo option on my device, what do I do?
A: If you can't find the motion photo option in your camera settings, it means that your device does not support this feature.
Here are some links you may like;
How To Turn Off Software Updates On Android | Samsung
How to Add Emergency Contacts on Samsung Galaxy Phones
How to Quick Launch Camera on Samsung Galaxy S9