From KitKat to Marshmallow and now Nougat, Android has come a long, long way. Nougat is Android's 7th main version but the 14th overall Android version in the Android operating system marathon. The first 'alpha' version of Nougat was released back in March 2016. Its official version, however, was not released until later, in August 2016. Nexus devices were the first ones to receive the update. But now, you can upgrade any Android device to Nougat. With a pack of interesting and exciting features, give your Android device a new look by enabling the hidden dark theme (Nougat).
There are two basic ways you can enable the dark theme in the latest Android Nougat version. The second of these 2 methods is more of a direct, shortcut approach.
Give your Android device a new look by enabling the hidden dark theme (Nougat) – Method 1
1. Scroll down the top of your Android device screen.
2. Extend by pressing down the white mark.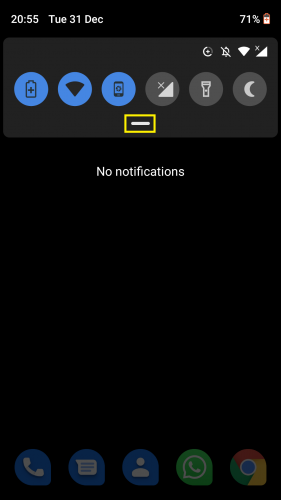 3. Tap on Settings.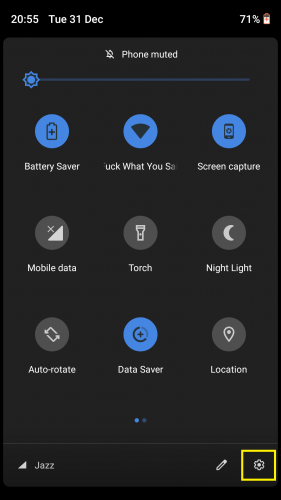 4. Select Display.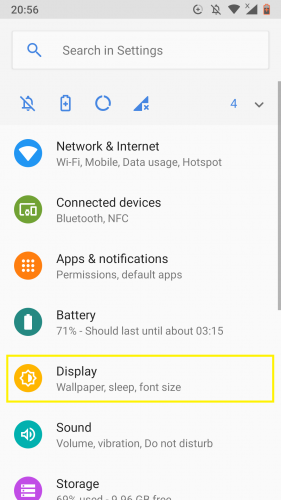 5. Tap on Advanced.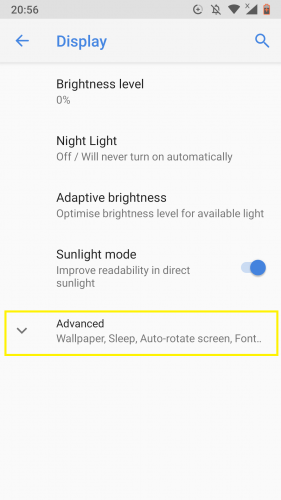 6. Go to Device Theme.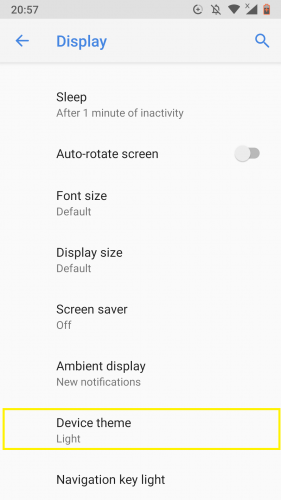 7. Select Dark.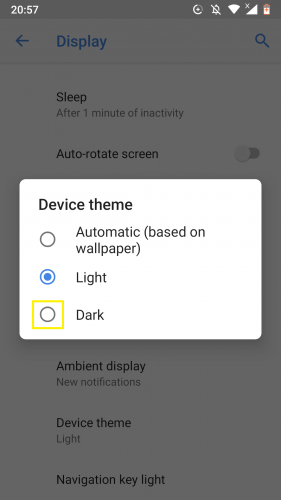 Your device is now set to a dark theme.
Give your Android device a new look by enabling the hidden dark theme (Nougat) – Method 2
1. Go to Settings > Search Settings.
2. Type 'device theme' in the search bar.
3. Select device theme option that shows up.
4. Tap on Dark.
And there you have it! Your Android device will now show notifications' bar, phone and messaging apps, news and others such pages built in to your device in a dark mode.
FAQs
1. Is Nougat the latest version of Android?
No. After Nougat came 'Oreo.'
2. Can I upgrade to Oreo directly?
Upgrade your Android device to Android Nougat version 7.0 first, in case your device is still running on Android 6.0 or an even older version. Only then the update patch for Oreo can be upgraded to.
3. Will the dark theme be enabled on my apps, too?
No. The theme is just going to be prevalent in your device and contents contained in it thereof.
4. Which is better, Android Nougat or Oreo?
Oreo definitely comes with better battery optimization options that Nougat. Unlike Nougat, multi-display function is available in Oreo.
5. Will dark theme interrupt the OS as a whole, in any way?
No.
6. Why should I switch to dark theme to begin with?
It has the following advantages: significant reduction of power usage; improves screen interaction for whose with low vision and/or sensitivity to bright light; makes the GUI surface easily usable especially in a low-light environment.
More on Android
You might find the following tips and tricks related with Android beneficial, too:
How to Enable Dark Mode in Google Chrome for Android and iPhone
Make a 3-Way Call on Android in 8 Easy Steps
Learn how to Reset an Android App Without "Uninstalling It".
Getting to know how to Free up Space & Get More Storage in Android