When you have to interact with many customers in a day, remembering their information for further support can be a huge pain. Even though the information is still available in the conversation, you may have to scroll up a lot to read it again, which is time-consuming. Typing your customers' information into a separate app may be helpful, but you still need to be able to locate it again later. Luckily, there is a built-in feature that lets you add notes to Facebook Page Messenger. Continue reading to find out how.
The note feature can also be useful when there is more than one admin managing a page. You may add important information to the Notes section so that other admins can later continue the conversation without spending too much time figuring out the current customer's problem or question.
1. Log in to your Facebook page account, and switch to the page manager.
2. Select the Messages button at the top left of the screen.

3. Select the conversation to which you wish to add notes using the left-side panel.
4. The third panel from the left contains an overview of the user with whom you are chatting. At the bottom of the panel, click Add Notes.

5. In the Add New Note window, simply type in your note, and click Confirm.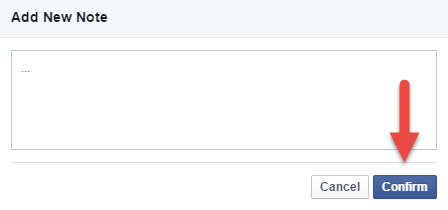 6. Your new note is now added, and you can access it whenever you want without having to scroll up through the conversation. You may add multiple notes if you want. Clicking the Delete button below each note will erase it from the chat thread. When there are multiple admins, the admin's name will appear next to the note so that you know who added it.
7. Please note that only admins can see notes. Customers in the same chat thread will not be able to access the notes.