When you greet customers automatically on a Facebook Page, it gives them a good impression of your service. You can also take advantage of this feature to redirect customers to your frequently asked questions page or display a public announcement about temporary changes in your services that might affect the reply time. An automatic greeting, when used correctly, can reduce the number of messages coming to your inbox everyday. Here is how to set it up and use it on your Facebook Page.
An automatic greeting is only displayed the first time a user starts a conversation with you. It will appear in the message box even before the user enters his message.
There is another Facebook page feature that automatically replies to your customers' messages when you turn it on. You can find the steps for setting it up in this tutorial. Automatic greetings and automatic replies are two different features. While an automatic greeting only appears for the first-time user, the automatic reply feature can be sent multiple times.
1. Log into your Facebook account, and switch to the page that is under your management.
2. Click the Settings button at the top right of the window.

3. Navigate to the Messaging section on the left-side panel.

4. At the bottom of the page, you will find a sub-section called Messenger Greeting, check the box next to Turn on messenger greetings for your page to turn it on.

5. Type your greeting in the Customize Your Messenger Greeting box. Options to include the customer's first name, last name and your website URL in the message can be found by clicking on Add Personalization. The First Name and Last Name features are dynamic and will be changed accordingly.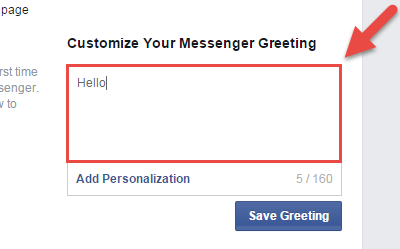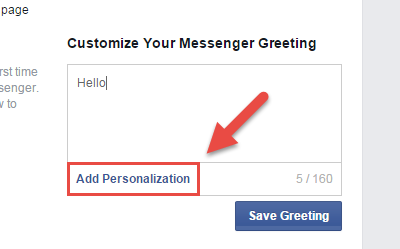 6. When you are done, click Save Greeting. You can test the feature out by opening the message box and sending messages to your own page.