Red eye is a common phenomenon in low light photography. When the flash is too close to the lens on your camera (which is often the case with phone and compact cameras), the camera will capture light reflecting off your retinas in a way that makes them look spooky red. Fortunately, the Windows 10 built-in Photos app comes with a red eye correction tool that is easy to use. Read on to find out how.
If you are interested in the science behind red eye, check out this article by allaboutvision.com.
1. Open the picture you want to edit with Photos. Photos is the default app for viewing photos in Windows 10, so your picture will open in Photos when you double-click on it in File Explorer. Alternatively, open the Photos app from the Start menu, and scroll through your collection or albums to find your picture. I usually prefer the first method because Photos does not organize your pictures into folders, which means you have to scroll through all the images in your collection to get to the one you want.
2. Click the Edit icon on the top menu bar. It looks like a pencil.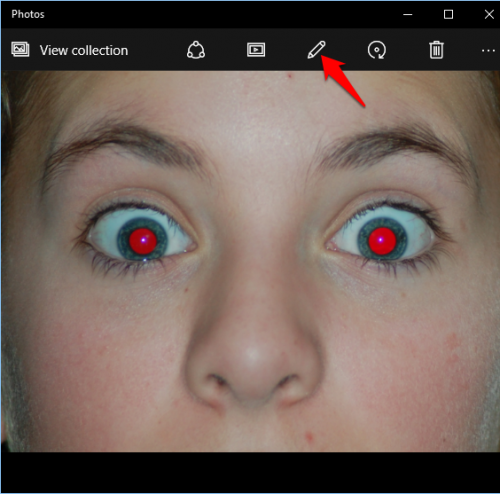 3. Make sure Basic Fixes is highlighted on the left side. Click the Red Eye tool on the left side of the window.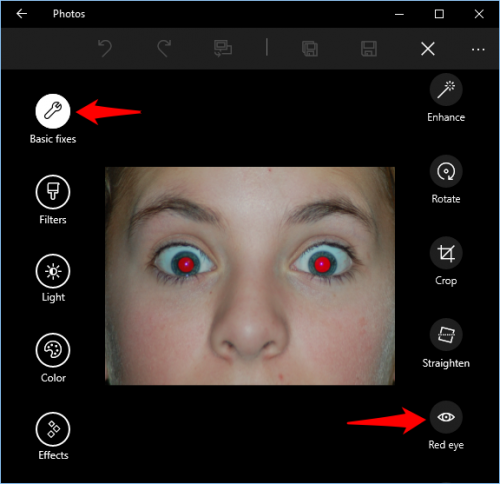 4. When the Red Eye tool is on, a blue circle will appear, surrounding your mouse cursor. Move your mouse so that the blue circle is over one of the eyes you want to fix. Click your mouse, and the red will be turned to black.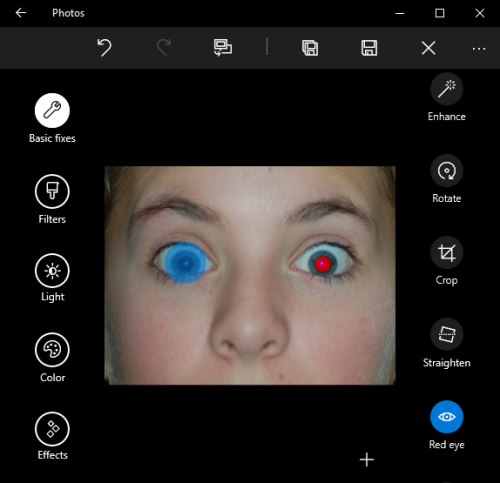 5. Once you are done fixing all the eyes, you have two options to save your edited image. You can replace the original image by clicking the save icon which looks like a floppy disk to the left of the x. The icon to the left of that looks like a floppy disk with a shadow, and it will leave your original file alone and save your edited image as a new file.