The coronavirus pandemic has confined us to our homes. Under its restraining order, we're spending hours binge-watching Netflix with friends (courtesy of Netflix's coronavirus-inspired Netflix party extension). Not to mention, our Facebook usage has trickled into entire days. And we know Facebook has always been a procrastination-feeding-time-accelerating beast. Who among us hasn't wasted endless hours simply scrolling up and down their Facebook News Feeds? Fortunately, for one of these worsening behaviors, a solution has popped up. Yes, Facebook has introduced a brand new quiet mode to help you manage your Facebook addiction. This new feature quietly sits in your smartphone's background and makes it hard for you to regain access to the Facebook app.
In this tutorial, we will get you acquainted with the nitty-gritty of this new feature, and answer several questions surrounding its usage. What is Facebook's quiet mode? How to turn on Facebook's Quiet mode on Android and iOs? How to turn off Facebook's quiet mode? And the list goes on…
So, let's start…
What is Facebook's Quiet Mode?
Yes, Facebook already has a pause notification feature, but it's practically useless. It lets many notifications trickle through. Facebook's quiet mode, on the other hand, filters through most, if not all, of Facebook's notifications. This ensures you're not distracted if you're reading a book or knitting, or doing anything productive for that matter.
Furthermore, this feature also has the added advantage of significantly improving your brain health.
Did you know that constantly checking our smartphones for notifications is messing with your brain chemistry? According to a study published on PLOS, push notifications increase the release of the stress hormone "cortisol", leaving you with a feeling of anxiety and stress.
So, if distractions weren't a good enough reason to use the quiet mode, your health certainly is, unless you don't care about that either.
Activating the Quiet Mode on the Facebook App ( iOS)
1. Open the Facebook app.
2. Locate the three-horizontal-line Menu at the bottom and open it.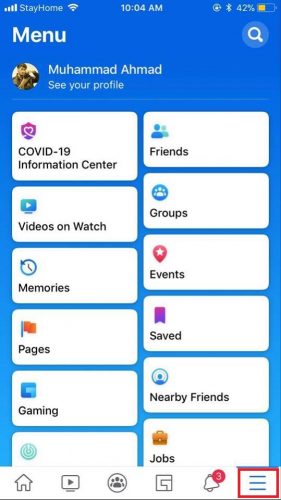 3. Scroll down to Your Time on Facebook.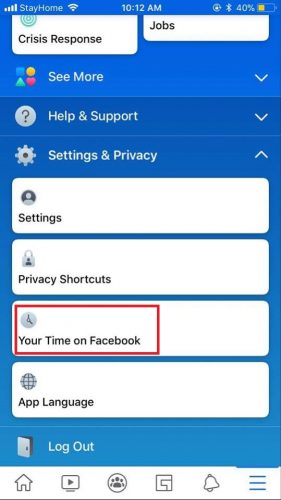 4. Tap Manage your Time.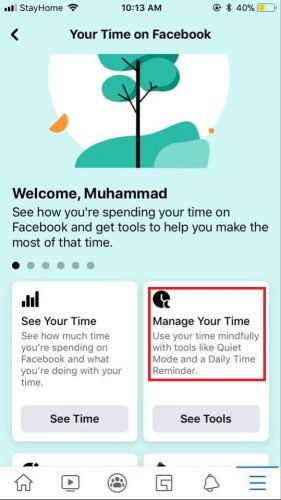 5. Toggle on Quiet mode.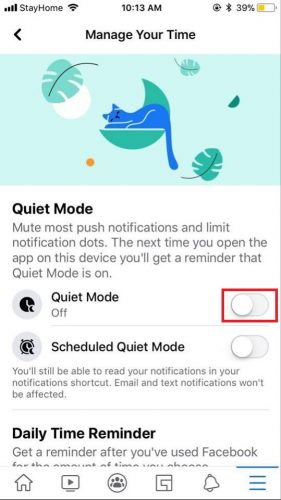 Why Is the Quiet Mode Not Showing on my Phone?
The quiet mode for Android users is scheduled to release in May of this year. So, if you don't have the feature, it's probably because you're an Android user.
It sucks, though, doesn't it? How Android users almost always get the updates last?
However, all you can do is be patient for now. Try to be productive with your arts, or your work-from-home arrangements, without the use of the quiet mode. I know, it's a lot to ask, but there's no harm in trying.
Is there Anything More I need to know about this Mode?
Well yes.
There's a lot more you can do than just toggling the quiet mode on. For starters, you can customize it to meet your immediate needs. There are options to set Quiet mode's duration. For instance, if you want it to deactivate by itself after 5 hours, you can do that.
Furthermore, the time you spend in the quiet mode will show up in Facebook's recent activity section, or the notification tabs. You will not get notification alerts of this activity, though.
Under some laws and regulations, Facebook is not permitted to block certain notifications, including app privacy and settings. So, if you get them, don't think that your quiet mode isn't doing its thing.
Tech-Recipe's Related to Facebook's Quiet Mode