With the introduction of macOS Sierra, Apple has brought Siri to Macbook. Now Macbook users can use Siri on their laptops just like they do on their iPhones. Similar to the iPhone version, Siri on your Mac comes with the female voice by default, and the language is in sync with system defaults. The default settings are perfectly suitable for most users. However, if you want Siri to speak a different language or if you prefer a male voice, you need to configure the system manually. Fortunately, the steps to change Siri's language or voice is rather easy. Follow the steps in this tutorial to find out how.
In order to use Siri on your Macbook, the device must be running at least on macOS Sierra. As of this writing, macOS Sierra is available as a free download in the App Store. After the OS upgrade completes, you will be asked to enable Siri. Please do so. If you accidentally turn off Siri, you can always turn it on again in System Preferences.
How to Change Siri's Voice in macOS Sierra:
1. Click the Apple logo at the top left of the screen, and then select System Preferences from the context menu.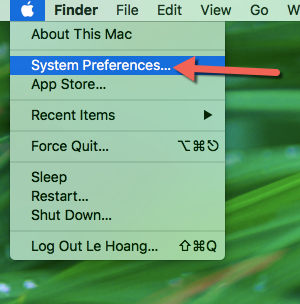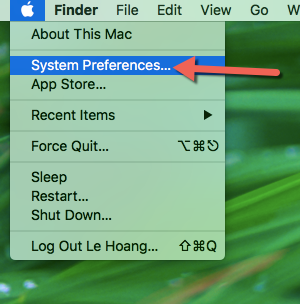 2. In the pop-up System Preferences window, select the Siri option in the fourth row.
3. In the Siri preferences screen, you will see several options on the right-side pane. Click the Language drop-down menu to change the language, and click Siri Voice to change the accent. Available accents for English are American, Australian, British, Irish and South African. All of these accents are available in the male and female versions.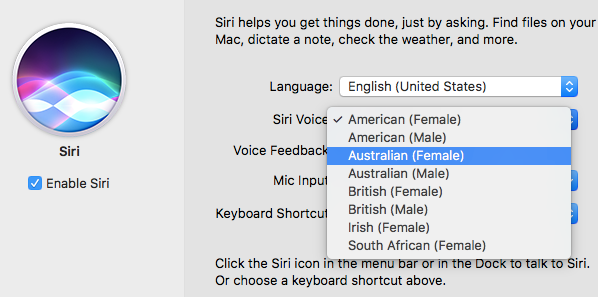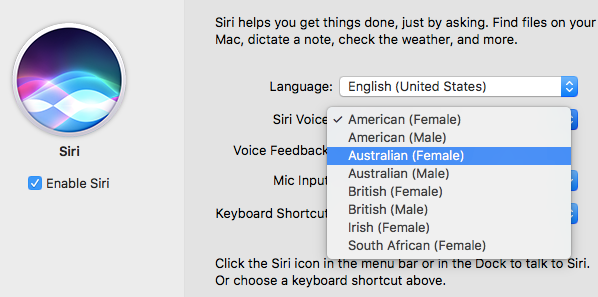 4. When you make changes to these options, they will be saved automatically. Therefore, you can simply click the red circle to close the window and test out Siri's new voice.