iOS 7 is the most impressive update to iOS since it was originally released. Many users are excited to get the new software; however, it will not run on every single Apple device. Continue reading to see if you can install iOS 7 on your iPod Touch, iPhone, or iPad. Model numbers are included in case you are unsure which device you have.
With the latest Apple keynote, most people are very hungry to install iOS 7. Considering the newest features require additional processing power, all Apple mobile devices are not able to run the iOS update.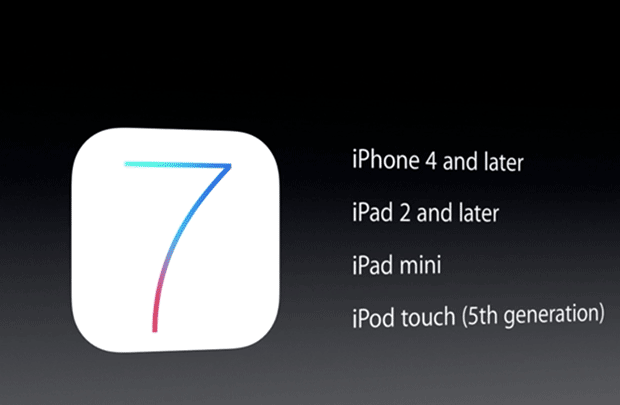 iOS 7 Compatible Devices
iPhone 4, 4S, 5 or later. (A1349, A1332, A1387, A1428 and A1429).
iPad 2, iPad Retina or later, and all iPad Mini devices (A1395, A1396, A1397, A1416, A1430, A1403, A1458, A1459, A1432, A1454, A1455, and A1460).
iPod Touch 5th generation devices (A1421)


If you are unsure of you exact model, just look up your model number on the back of your devices. The above list just describes which Apple devices will actual be able to install iOS 7.
Limitations of iOS 7 on certain hardware
Panorama format – iPhone 4S, iPhone 5, and 5th generation iPod touch
Square, video formats and swipe to capture – iPhone 4 or later, 3rd generation iPad or later, iPad mini, and iPod touch
Filters in Camera App – iPhone 5 and iPod touch
Filters in Photos App – iPhone 4 or later, 3rd generation iPad or later, iPad mini, and iPod touch
AirDrop is available on iPhone 5, 4th generation iPad, iPad mini, and iPod touch
Siri is available on iPhone 4S/5, iPad with Retina display, iPad mini, and iPod touch
Obviously, all iPhone and iPad owners will want this update; however, it is difficult to expect Apple to continue to provide updates for devices that are approximately three years old. This older hardware would be underpowered to run most of the iOS 7 features. iOS 6 continues to run on most of these older devices so your Apple mobile device will continue to have all its current features. For many of us with older devices, however, iOS 7 contains enough exciting procedures to tempt us into purchasing an updated device.
iOS 7 beta has currently been released to developers. It will be released officially for free to compatible devices Fall of 2013.