Setting your iOS device to DFU mode forces it to connect to iTunes without loading operating system or the boot loader.
The term DFU stands for Device Firmware Update. DFU mode is often used to change the firmware on your device after other methods have failed. For example, methods of downgrading iOS usually involve DFU. Many techniques of jailbreaking, device unlocking, and iOS recovery require DFU mode.
Most users learn about DFU mode when their Apple mobile device hangs after a hard reset, unsuccessful jailbreak, or failed iOS upgrade. I most often use DFU mode when converting an old iPhone into the functional equivalent of an iPod Touch device.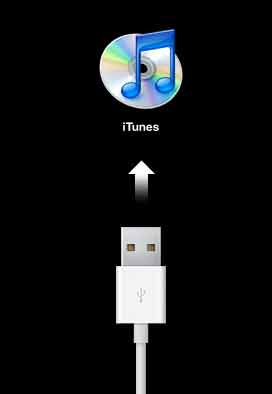 Recovery Mode versus DFU Mode
Recovery Mode is standard way that iOS devices update and restore. This is the typical recovery screen when the USB cable and iTunes is displayed on the screen. This mode is often seen after iOS is updated or when establishing new service. Recovery Mode is demonstrated by the picture on the right.
In contrast, DFU Mode just has a completely black screen without any graphics at all. This is because with DFU mode that everything, including any loading of graphics, is completely bypassed. The only way to know that a DFU mode device is active is through its connections to iTunes.
Below you can see the steps you need to take to enter DFU mode on your iDevice:
1.First plug in your Apple mobile device into your computer.
2.Now, turn off your device. Do this by holding the Power button, until "Slide to power off" appears, then slide it.
3.When your devices is off, press and hold the Power button for 3 seconds.
4.Keep holding the Power button, and press the Home button. Do so for 10 seconds.
5.After 10 seconds release the Power button, but continue to hold Home.
6.Continue to hold Home until iTunes says that you have connected your device with the "recovery mode" message. However, as described above, this is misnomer. If your screen is still black at this point, you are actually in DFU Mode as desired.
If you see the Apple logo at any point while following these steps, you have actually entered the real Recovery Mode and will need to try again. If the screen is completely black and you can see the device in iTunes, you have correctly entered DFU Mode. From here you can follow directions to load a fresh copy of whatever iOS version you wish to use.
If you wish to exit DFU Mode, hold the Home + Power until the Apple logo appears.