For those of us who use their iPhone or iPad as an alarm clock, the Do Not Disturb settings available in iOS 6 forces incoming calls and alerts to be silenced. This tutorial will walk you through setting up this new feature.
Few things physically hurt me more than being jarred from sleep by a text message or a Facebook notification. Additionally, as I frequently sleep during odd hours of the day, having a way to isolate myself from calls is essential.
Even in this mode, your alarm will still work correctly. If you are actively using your phone with this mode enabled, you will still be notified. The Do Not Disturb mode kicks in once the iOS device is locked.
Your iOS device will need to be updated to iOS 6 to be able to use this feature. Likewise, you will require a iPhone 3GS, 4th generation iPod Touch, iPad 2, or later to install iOS 6.
1. Select Settings icon
2. You will see the Do Not Disturb On/Off switch here which will allow you to enable or disable this feature.
3. To schedule and configure the Do Not Disturb feature, select the Notifications entry instead.
4. Select the Do Not Disturb option here to open the configuration settings.
5. Slided the Scheduled to ON to set the time you wish for the Do Not Disturb option to be automatically enabled.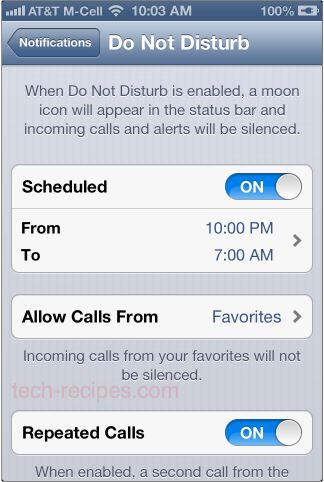 6. You can select whom to Allow Calls From and if Repeated Calls should be allowed to ring. With Repeated Calls enabled, a second call from the same person within three minutes will be allowed to interrupt you.
7. When Do Not Disturb mode is actually enabled, you will see a moon near your clock at the top of the screen.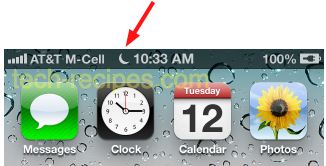 8. You can manually override your scheduled settings by using the Settings-> Do Not Disturb ON/OFF toggle.
David Kirk is one of the original founders of tech-recipes and is currently serving as editor-in-chief. Not only has he been crafting tutorials for over ten years, but in his other life he also enjoys taking care of critically ill patients as an ICU physician.