iPhone has a built-in "how to turn off read receipts feature" that allows its users to know when their iMessage has been delivered and read by their recipient. As useful as this feature could be at times when you need to know whether your urgent message has been conveyed to the concerned person or not, this feature can also be a nuisance at times. For instance, suppose you send a message to your friend asking them to come over instantly because you need their help with something. But they don't reply right away even though according to your phone's status update your message has been read by them. You will obviously feel offended. Meanwhile, your friend might be in an actual emergency himself too and would already be feeling awful for not being able to reply. And we all happen to know a friend or a family member who gets upset when they're not replied right away.
Well, there's a way you can avoid hurtful feelings in such complicated situations by simply turning off the Read Receipts in your iPhone. If you're wondering how to turn off read receipts on iPhone, following the steps demonstrated below:
Step-By-Step: How to Turn off Read Receipts on iPhone
1. Go to your home screen and tap the Settings icon.
2. Scroll down on the list that appears and opens Messages to view message settings.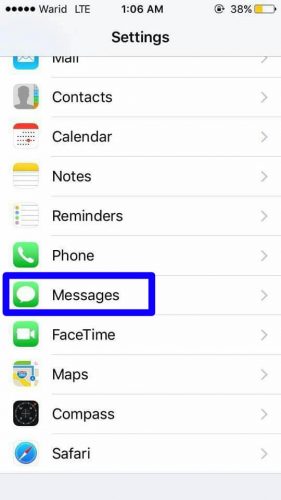 3. You will see a Send Read Receipts bar. Toggle the switch next to it to the off state by sliding towards the left. It will turn from green to clear.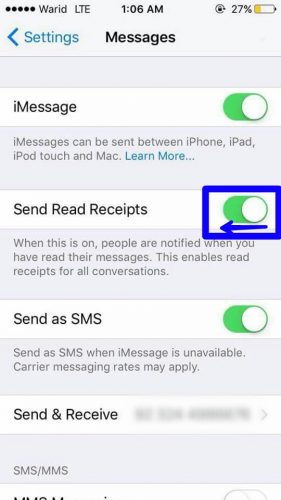 4. Now you can go back to your usual messaging.
By disabling the read receipts option your sender will not be informed when you read their incoming messages. They will still, however, know when it has been delivered. This way you won't feel obliged to send them a reply right away. You can reply them at your ease.
Frequently Asked Questions
 Q: Will people receive read receipts for the text messages I send them?
A: No, the text messages you send to an Android user will not have read receipts with them. Read receipts will only be sent with your messages sent to other iPhone users.
Q: How do I turn the read receipts back on?
A: Go to Messages in Settings. Slide the switch next to Send Read Receipts to the right (it will turn green) to turn read receipts back on.
Q: Can I turn read receipts off for a specific person?
A: Yes, you can do that if you have an iOS 10. This option isn't available in the earlier versions of iOS.
Q: How do I turn off read receipts for a specific person?
A: Open the conversation of the person you want to turn read receipts off for and tap the Info 'i' icon on the top right corner. Then toggle the Send Read Receipts switch to off.
Q: I sent an SMS to an iPhone user. Will I get a read receipt for it?
A: No, you will not receive read receipts for any SMS sent to either an iPhone or an Android user. This feature is only available for iMessages sent to other iPhone users.
Still, have confusion about how to turn off read receipts on iPhone? Comment below and we will sort out everything for you.
An established copywriter, with a longstanding experience in a vast array of industries, including but not limited to spirituality, technology, cannabis and travel.