When it comes to tech and the internet in general, two buzzing words have been making the rounds in almost all facets of the world wide web today – these are Facebook and privacy. This article will discuss all the things that you should do to protect your Facebook account privacy.
Mark Zuckerberg appeared before the US Congress and confirmed a massive data breach on user data and laid out the steps his company is taking to improve Facebook's privacy. The appearance happened less than a month after Mark confirmed the data breach perpetrated by Cambridge Analytica. Though there was no solid proof that the leak affected the United States' 2016 presidential elections, the fact that the data firm worked both with Trump and Russia makes the theory highly plausible. Learn to protect your Facebook account privacy by following the recommendations in this article.
Control Who Can See Your Facebook Posts
Before posting, you can use the audience selector tool to choose who can view your posts. Available options are: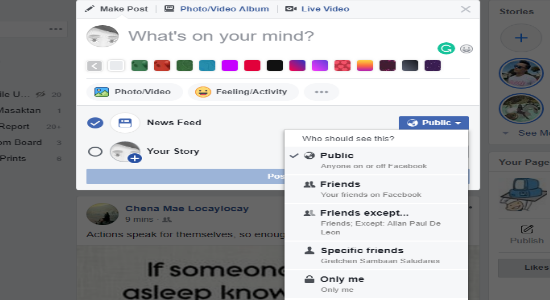 • Public – all Facebook users can view your post once they visit your Facebook timeline.
• Friends – only Facebook friends can view your posts. Friends of friends and the public cannot view your Facebook post.
• Friends except… – only Facebook friends except those manually excluded can view your posts. Friends of friends, the public and exempted people cannot view your Facebook post.
• Specific Friends – restricts specific friends to view your Facebook posts.
• Only Me – only you can see your posts. Even your family and your closest friends cannot see your posts. You alone can view your posts. Some users prefer this option whenever they want to use their Facebook account as a bookmarking tool.
Use Lists to Share to a Selected Group of People
Organize your Facebook friends into lists so you can share posts to a specific and pre-selected group. When a post is shared through Lists, only people who are part of the list will see your post. Create a new list by going to the Explore section of Facebook and opening the Friend Lists feature.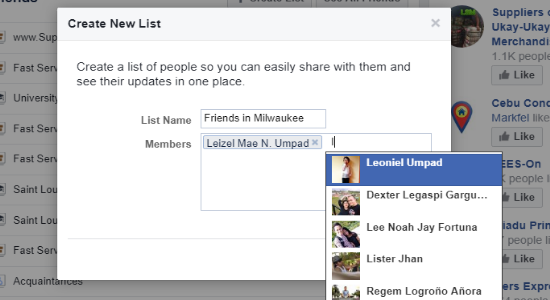 Change the Audience of Your Previous Posts at Once
Facebook allows you to adjust audience of your old posts with a single action. By using this tool, you can change the audience of all your Public posts to Friends Only. Go to Settings > Privacy > Limit The Audience for Old Posts on Your Timeline > Limit Past Posts.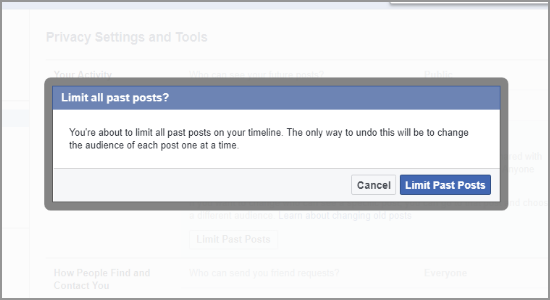 Control Who Can See Your Facebook Profile and Timeline
See to it that only those people you personally know and trust can see your details of your Facebook profile and timeline. Go to your Timeline to edit your profile, change photo privacy, edit your About Me, and details of your Friend list.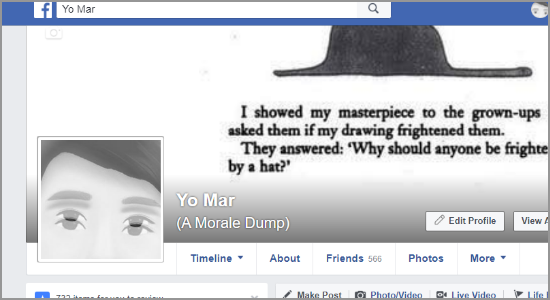 Use Timeline Review to Choose Whether Posts You are Tagged In Appear on Your Timeline
Enable Facebook's Timeline Review feature to disallow people's tags to appear automatically on your Facebook timeline. Every time you are tagged in posts, Facebook will notify you and tags the post as pending until you manually allow it on your Timeline. Turn on Timeline Review by going to Settings > Timeline and Tagging > Review posts friends tag you in before they appear on your Timeline? > Edit > Enabled.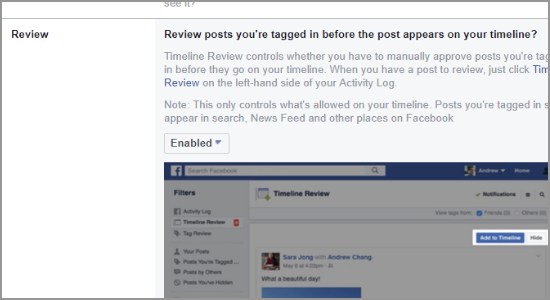 Block People on Facebook
If people keep on bugging and harassing you or are plain right annoying, you can simply block them off of your Facebook. Blocked people cannot see your Facebook profile nor any of your posts. Blocked people cannot search for you on Facebook, too. To block people on Facebook, go to a person's profile, click on the More button and select Block.
Quickly View Photos and Photos You are Tagged In that are Shared in the Public
Use Facebook's Activity Log feature to review photos you posted including those where you are tagged in and share with Public. To do that go to your Activity Log and click on the Photos and Videos button.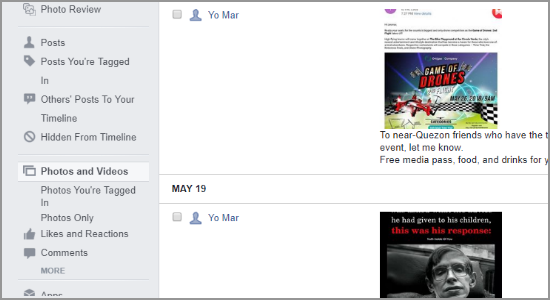 View What Your Facebook Profile Looks Like to Other People
Use Facebook's View As feature to see what other Facebook users see on your timeline. You can choose to View as Public or View as a Specific Person. What you see on your timeline when using View As is the exact thing people see when they take a peek at your timeline.
Adjust Your Privacy Settings
Change your Privacy Settings to a more secure and private option so that non-friends and the public will not have access to your sensitive Facebook data. To adjust your Privacy Settings, go to Settings then click on Privacy.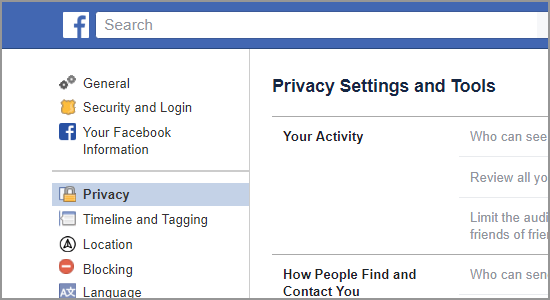 Use Privacy Shortcuts to Gain Quick Access to Commonly Used Privacy Settings
Access the commonly used privacy settings by using Facebook's Privacy Shortcuts. Access the feature by clicking the question mark icon on the upper-right part of Facebook (web) and selecting the Privacy Shortcut option.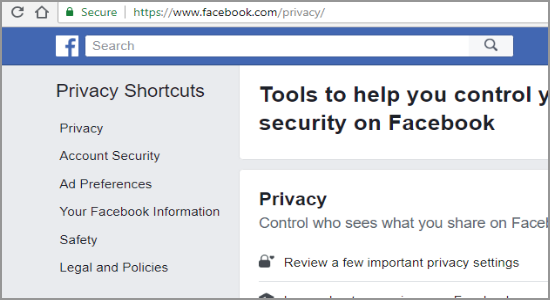 Run a Facebook Privacy Checkup
See how private is your Facebook account by running a Privacy Checkup. See your posts and other personal information including the settings for apps you are using with Facebook. Access the feature by clicking the question mark icon on the upper-right part of Facebook (web) and selecting the Privacy Checkup option.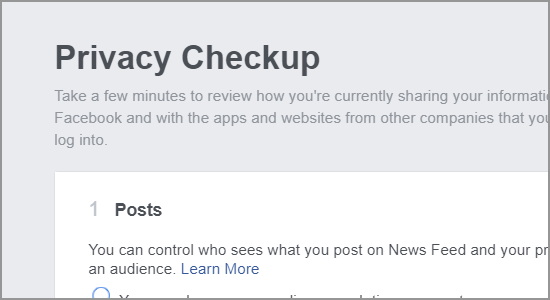 Adjust Privacy Settings for Games and Apps
Review the apps and websites where you used Facebook to login. These apps and websites have access to the information you have initially shared with them. If you no longer use an app or website, it is better to remove their access to your Facebook information. To review the apps and websites who have access to your information go to Settings > Apps and Websites. You can search for a specific app or filter for Active, Expired, and Removed sites and apps.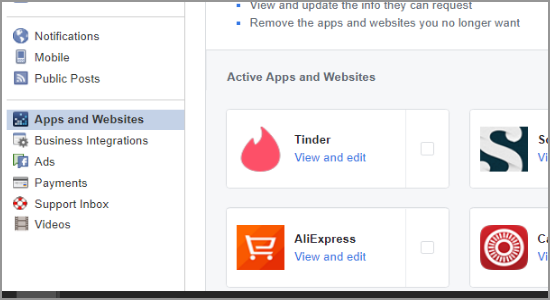 You just learned how to protect your Facebook account privacy. However, you probably know that difficulties may be faced trying to access Facebook in certain regions. In this case, VPN comes to the rescue letting you browse or keep up with your family and friends securely. Do you have other tips and procedures for keeping your Facebook account more secure and private? We would love to hear them in the comments section.